What is the nurse-midwife's role in women's health?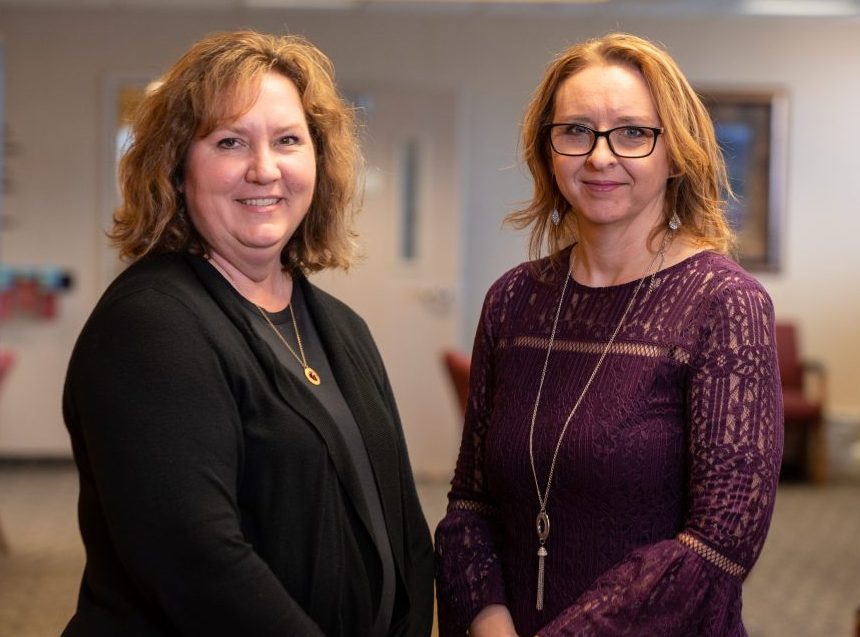 Lisa Brown and Sue Beavis are the Mankato Clinic nurse-midwife team.
The Mankato Clinic has launched a nurse-midwife program to offer women's health care from adolescence through childbearing years, with a focus on pregnancy, labor and delivery in a clinical and hospital setting.
Sue Beavis, APRN, DNP, CNM, and Lisa Brown, APRN, DNP, CNM, are the Mankato Clinic nurse-midwife team. Certified by the American College of Nurse-Midwives, both Sue and Lisa hold a doctorate degree in nursing to provide a high level of care. They are independent practitioners who work in collaboration and in close communication with Mankato Clinic obstetricians and gynecologists.
"We work as a team with our patients, providing strong education so they can make the decision that's best for them. No one can make the decision better than a truly educated patient can for themselves," Sue says. "I also try to recognize their future needs to set them up for success."
The biggest myths about midwives is they only deliver babies at home and women cannot have an epidural if they have a midwife. Lisa and Sue deliver babies at Mayo Clinic Hospital-Mankato where epidurals and other pain medications are available to patients. The use of pain medication is up to each individual. Lisa and Sue care for and support women who choose to have an epidural just as they support women who wish to give birth without an epidural.
"Our goal is to help you have as natural a childbirth as you want in a hospital setting. We like the safety nets. We don't need them all the time. If you do need them, you're so glad they are right there," Lisa says. "We offer a more natural approach to labor and delivery and prenatal care. We are supportive of conventional and complementary care to support pregnancy and health and wellness."
Sue and Lisa take a holistic approach, which means they treat the whole person to support health and well-being. They work closely with patients and their families to create a care plan that best suits them.
"We are with women through big health changes. As we provide care, we consider all of women's different roles in life, their beliefs and culture," Sue says.
"Globally, there are a lot of different beliefs around pregnancy and childbirth. We like to incorporate and know what our patients' cultural preferences are because they are so deeply rooted," Lisa adds. "We share what we know, but we also come with the understanding that this is the way you grew up and this is what your culture believes and practices. We are here to help you make the best decision for your family."
Just like our Mankato Clinic OBGYNs, certified midwives are dedicated to the safety of baby and mother during pregnancy, labor and delivery. Medical interventions such as induction and cesarean sections may be necessary. In these situations, your midwife will explain your options and ensure you get the care you need.
What can you expect in pregnancy care and childbirth?
Individualized pregnancy care plan with the ability to co-manage complications or risk factors with Mankato Clinic OBGYNs
Support of birthing plans that are safe and appropriate
Labor and delivery at Mayo Clinic Health System-Mankato Hospital
Support for your decision to use or not use medication during labor and delivery
Midwives also offer health care services for growing your family, birth control, menstruation issues and annual health exams.
Patient Testimonial: Hello Baby Louis!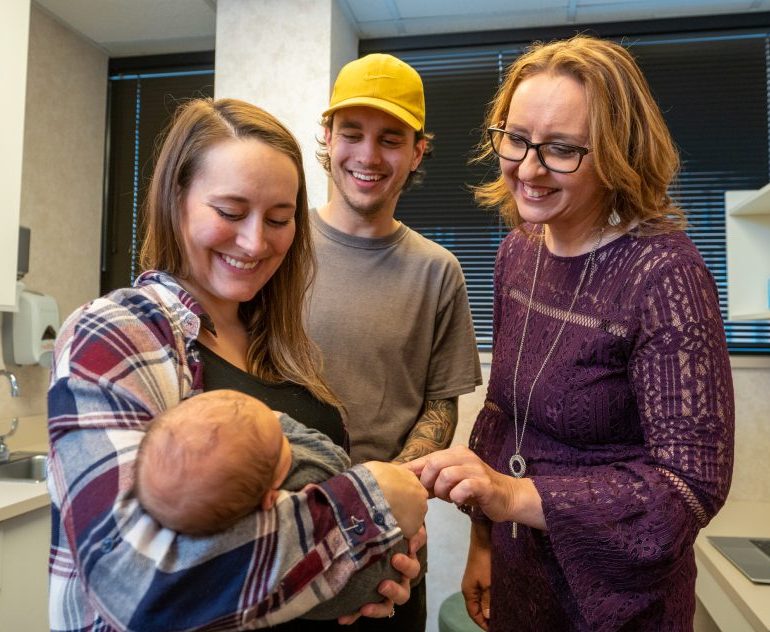 Jayd, Louis and Jake visit with Sue Beavis, APRN, DNP, CNM, in clinic.
Jayd and Jake Kaufman of Mankato welcomed Baby Louis into the world on April 30, 2023, under the care of Sue Beavis, certified nurse-midwife.
"I wanted less intervention. When I talked to Sue the first time, she was very receptive to what I was saying. It was perfect to go with her. It aligned with how I wanted my birth to go. Any time I had any questions, I could message Sue on the patient portal and she was really quick to respond. She calmed any nerves that I had going through pregnancy," Jayd says.
While Jayd was hoping for a more natural birth, medical interventions were needed. And that's OK. With Sue's guidance, Jayd knew her plans had to change for a safe delivery. She was induced as the baby was a week and a day overdue, she received an epidural for the intense pain, and complications led to a challenging birth.
Jake held Jayd's head up, fed her ice chips and let her squeeze his hand. When Sue asked for one final push, Louis came into the world. And they became a family.
"Sue talked me through everything and made me feel comfortable. It was great to have her there," Jayd says. "Making sure everyone is safe in the end is the most important. By the time I got to hold Louis for the first time, it was pure bliss."