Survivor: Sue Olson Stays Positive and Grateful
October 22, 2018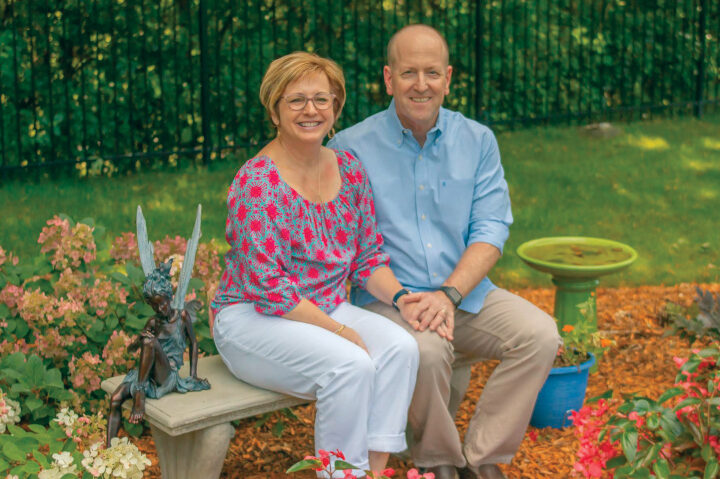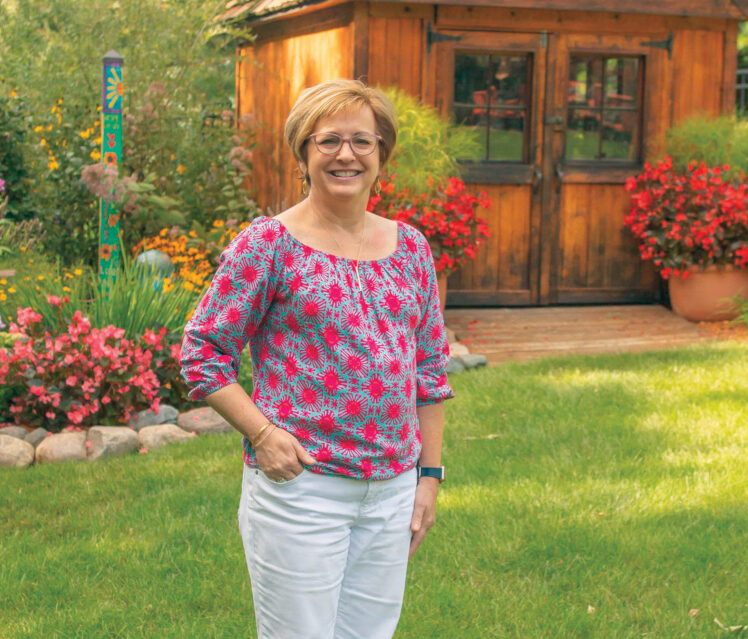 This article was originally published in Home Magazine Breast Cancer Fact Book, October 2018.
When Sue Olson of Mankato was diagnosed with breast cancer, she requested a week to get her garden in order before her mastectomy. As she worked in her garden, butterflies appeared and flew around her. Butterflies are not typical in mid-April in Minnesota.
"God is telling me everything is going to be OK. I had an amazing sense of peace," Sue said.
Butterflies have become a symbol for her and can be spotted throughout her garden.
The journey from her diagnosis in 2015 to being a three-year survivor has been filled with pain, but it also has been filled with faith, strength and courage. Married to Mankato Clinic Psychiatrist Bob Olson, MD, their 35-year marriage has always been rock solid. Cancer brought them closer still.
Sue is an advocate for yearly mammograms. An abnormality was found in her annual mammogram and she returned every six months for follow-ups. After two years, another spot was identified. A biopsy confirmed stage 1 breast cancer. "If you catch it early, it's more treatable and mine was. I had more options," Sue said.
After thinking long and hard, Bob and Sue decided on a bilateral mastectomy and reconstruction. She received all her care in Mankato. Mankato Clinic Physician Dr. Caroline Baerg gave her the diagnosis.
"She's been so supportive all the way along. So genuinely caring," she said.
During her mastectomy, expanders were placed in her chest to make way for permanent breast implants. The entire process takes about a year. Even with reconstruction, Sue still has scars. "Scars fade but they never go away. They are a constant reminder of that painful time in my life," she said.
Telling her parents and grown children, Matt and Kristin, was difficult. Extended family and close friends were next but to let others know, she chose Facebook. It turned out be to the best decision.
"I had so much support from people close by and far away. People are there for you when you put it out there," Sue said.
Throughout her journey, she leaned on faith and family.
"I had a supremely supportive husband. He sat there through the tears and frustration. He was my rock. The kids were great too," she said.
After her mastectomy she couldn't put her arms over her head. Bob moved everything to counter level so she didn't have to reach up. Even her coffee cup! After one surgery, Sue wanted a Popsicle, but she couldn't hold it. Bob held it for her so she could eat it. "It's the little things," she said.
Sometimes you need a little humor to pull you through. Her friends threw a party before her implant surgery. With a big smile on her face, Sue took a photo surrounded by friends with signs that read "Thinking big" and "Friends support each other."
As a three-year survivor, she knows that cancer can return any time. While it's daunting and scary, Sue doesn't focus on that. She remains positive one day at a time. Every morning she says a prayer of gratitude.
"There is always, always, always something to be thankful for," she said. "I start each day with a positive thought."
For 10 years, she will be on drugs to block the production of estrogen in an attempt to keep cancer from recurring. Recent studies show it may be beneficial to continue the treatment for life. The therapy causes musculoskeletal pain, extreme hot flashes, memory loss, fatigue, weight gain and bone thinning.
"I deal with that stuff every single day. But I'm alive. I'm here. God must have a plan for me," Sue said.
To stay trim and increase bone health, she eats healthy and exercises. An avid walker, one day she said I just can't walk today. Bob told her to put her walking shoes on. Halfway through, she hit her stride. "You have to push through. It's nice to have a cheerleader," she said.
She celebrates every milestone. She goes to Mankato Clinic Oncologist Dr. Suresh Devineni every six months. When she heard everything looked great at her last visit, she felt an enormous weight lift and almost skipped across the parking lot.
"Perhaps I'm not thriving in the ways I did pre-cancer, but in new and wonderful ways. The key is pacing myself, knowing my limitations and being grateful every single day for what I do have," Sue said.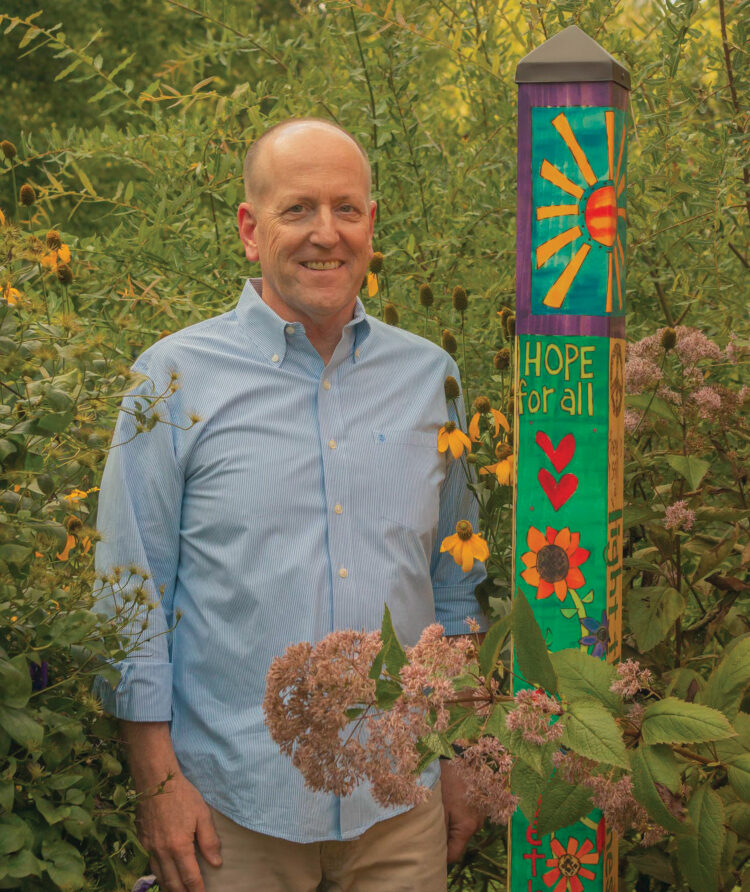 You can be resilient
Throughout Sue Olson's breast cancer journey, Psychiatrist Bob Olson, MD, was struck by his wife's resilience in the face of a life-changing cancer diagnosis and treatment plan.
He did some research and defined resilience as the quality that allows some people to be knocked down by life and come back stronger than ever.
"You can feel sorry for yourself. You can say it's not fair or you can try to move forward and get the support of your friends and family and make the best of a crummy situation," he said. "A positive attitude helps you get through these tough times."
He identified these key resilience factors: positive thinking, facing fear, doing what is right, faith, social support, role models and physical fitness. All play a starring role in Sue's life.
It became clear that Sue's journey as a breast cancer survivor was a perfect example of resilience. That's why he shares his research and her inspiring story with patients and community groups. He is amazed by how many lives have been touched by Sue's experience.
"The good news is resilience abounds in this world. A lot of people are resilient," he said.