Meal Planning for Real Life
May 22, 2020 by Erin Gonzalez, MS, RD, LD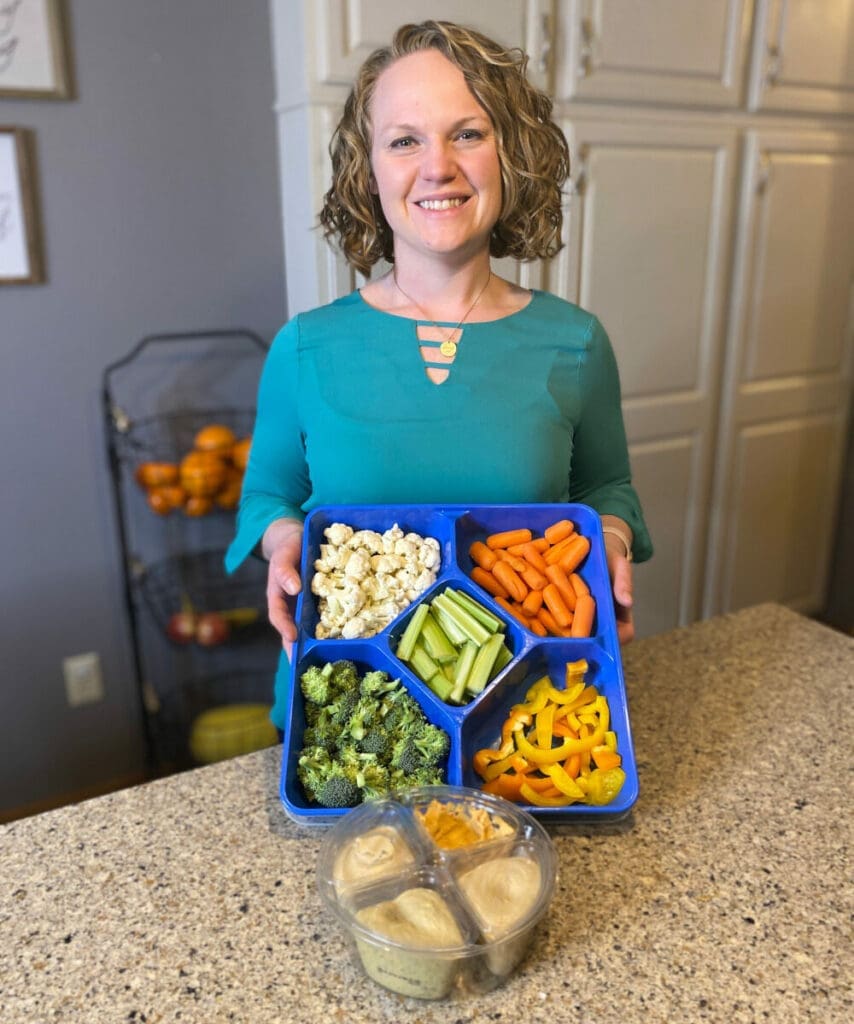 You've made a lot of meals and snacks in the last couple months! But how's the planning going? Meal planning can be overwhleming. That's why I encourage people to start where they're at and approach meal planning in three phases.
Phase 1
If you're serving pizza, mac and cheese, chicken nuggets – these traditional kid-based foods are fine. Just add on fruits and vegetables. On pizza night, offer baby carrots, raw veggies or cut-up fruit. Now we have a better-balanced meal. And the kids might find they eat less of the kid foods because they're also filling up on those nutrient-packed foods too.
You might try food bridging. Instead of chicken nuggets, try a cooked chicken breast. Then we're not changing all their food all at once. Branch out with one or two different items a week.
Phase 2
Our grocery stores have great options. One of my favorite go-tos on busy nights is a rotisserie chicken. Then I grab steamable bags of rice and veggies. In less than two minutes each, they steam right in the bag in the microwave. And bonus, there are leftovers so you have lunches or even quesadillas the next day.
Next, try some skillet meals. You'll find complete meals in the freezer section. I keep one in the freezer just in case. We need to have these rescue options on hand. Again, only try one or two new foods a week.
Phase 3
Have you tried the sheet-pan meals? Less mess and everything cooks at one time. We're challenging our kiddos with salmon. Salmon is so good for us. The best way to season salmon is with steak seasoning. Put salmon, fresh green beans and little potatoes on a sheet pan. Drizzle with olive oil and season with steak seasoning.
Other great options are raw chicken tenders. Throw them in a skillet with poultry seasoning and they're done in 10 minutes. Then go back to your handy steamable bags of veggies and brown rice and we've got a meal. Then you can add some kickin' sauces for the adults – pineapple chipotle, raspberry Thai, fajita sauce. They're in a jar or package ready to go.
Variety
Our job is to offer our kiddos a variety of food choices. It's their decision to try them. When introducing a new food at supper, bring in bread, fruit and a glass of milk. Then your kiddos will be satisfied when they walk away.
For some kids, asking them to try two bites will work very well. Others may refuse. Remember, exposure is key. If they allowed it on their plate, that's success. It takes 30 times of offering a new food before kids will accept it. Most parents give up after three. So we have to keep offering.
The next step is bringing our kids into the meal planning and cooking process. That's a whole new level of energy! Take it one phase at a time.