Kicking Off Spring with a Healthy Recipe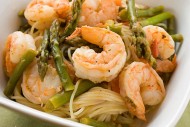 April 3, 2015
Before you know it Brussels sprouts, broccoli, bok choy, beets, asparagus, artichokes and acorn squash will be in their peaks, leaving your local grocery store stocked to the brim with all of the fresh, healthy vegetables you can get your hands on. Even though we're still a few months or so away from picking our own produce, it's always helpful to know what vegetables are in their seasonal peak. After all, you want to make sure you're getting the biggest bang for your buck – or should we say the biggest leaf for your buck? Keep this valuable chart handy so you know when to start purchasing your favorite vegetables throughout the year.
To kick-off spring, we're posting a fun, flavorful recipe sure to get even your pickiest eater enjoying fresh produce. Bi-monthly, our blog will feature healthy recipes made with one – or more – of the vegetables featured on the chart that are in their peak season. This week, we're sharing with you an angel hair with shrimp and asparagus recipe courtesy of Skinnytaste.
What you'll need:
1 bunch of asparagus (approximately one pound), tough ends removed, quartered
1 tablespoon olive oil
6-8 ripe plum tomatoes, diced
2 cloves garlic, thinly sliced
12 ounces large shrimp, peeled and de-veined
1/2 cup fat free chicken broth
2 ounces white wine
1 teaspoon salt
1 teaspoon black pepper
1/2 teaspoon herbs de provence (or you can use your favorite herbs)
1/2 teaspoon red pepper flakes
8 ounces of 100 percent whole grain angel hair pasta
Directions:
Heat a large skillet on high heat. Season shrimp with salt and pepper. When skillet is hot, spray with oil and add shrimp. Cook shrimp about two minutes on each side until almost cooked through and remove from pan. Set aside.
Reduce skillet heat to medium, add olive oil and garlic and sauté until golden, careful not to burn. Add tomatoes and season with salt and pepper. Simmer about four minutes. Add white wine and broth and stir. Add asparagus, salt, pepper and herbs. Cover and simmer for 10 minutes on medium-low heat.
While sauce is simmering, boil salted water and cook pasta until desired tenderness. Drain when done.
After sauce simmers for 10 minutes, add shrimp to sauce to finish cooking – about one minute. Do not overcook shrimp or it will get tough. Add pasta to the sauce and toss well. Divide equally in four bolws and top with grated cheese.
Nutrition information
Serves: 4
Serving size: 1 1/2 cups
Per serving: Calories: 384; Total Fat: 6g; Saturated Fat: 0g; Monounsaturated Fat: 3g; Cholesterol: 165mg; Sodium: 864mg; Total Carbohydrates: 51g; Dietary Fiber: 9g; Sugars: 4g; Protein: 28g
Nutrition bonus: Potassium: 512mg; Vitamin A: 32%; Vitamin C: 29%; Calcium: 7%; Iron: 44%