Fall into Healthy Eating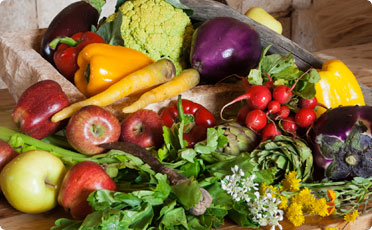 September 7, 2016
by Mankato Clinic
By now, it's likely that your garden or farmers market has been void from tomatoes and zucchini, giving way to pumpkins and turnips, a sure sign that fall has arrived.
Corn on the cob and fresh fruits of a warm summer may be a thing of the past until next year, but don't worry! The autumn and winter harvest seasons contain enough fresh produce to spruce up your taste buds.
Cabbage, pumpkin, carrots, Brussels sprouts, butternut and acorn squash, potatoes, sweet potatoes, yams, cauliflower, kohlrabi, turnips and kale are some of the fresh produce in the fall that bring their own color wheel of seasonal fruits and vegetables to the table.
Like apples, squash and grapes, produce with deep colors like reds, oranges and purples, contain minerals, fiber, vitamins and phytochemicals that have different disease-fighting elements. So, not only are they tasty, but they can help you feel better, stay healthy and can help protect against stroke and heart attacks. With so many different produce options available until spring, it's fairly easy to eat the recommended 4-5 servings per day of fruits and vegetables.
If you're someone who is a strictly summer gardener, don't forget that your local grocery store carries much of the aforementioned produce. In fact, buying seasonal produce can take some of the strain off of your pocket book because foods in season are typically more affordable and abundant.
From using it in vegetarian lasagna to toasting apple slices, fruits and vegetables that are in season are typically more fresh and flavorful. If you prefer to buy frozen or canned produce, those can be just as healthy and satisfying as fresh fruits and vegetables. Because produce is canned or frozen at the peak of harvest, they still provide the same nutritional value that is similar to fresh produce. However, it's recommended to rinse canned vegetables to remove excess sodium.
Whether you like to grow your own fall produce or you prefer to purchase it, autumn is the perfect time to shift to the abundance of nutrition-rich fruits and vegetables. Entertain your taste buds this season by learning a new recipe or diving in to one of your old favorites – your health with thank you for it!