Drug Free: Joe Harvey Finds Pain Relief at Mankato Clinic
August 10, 2021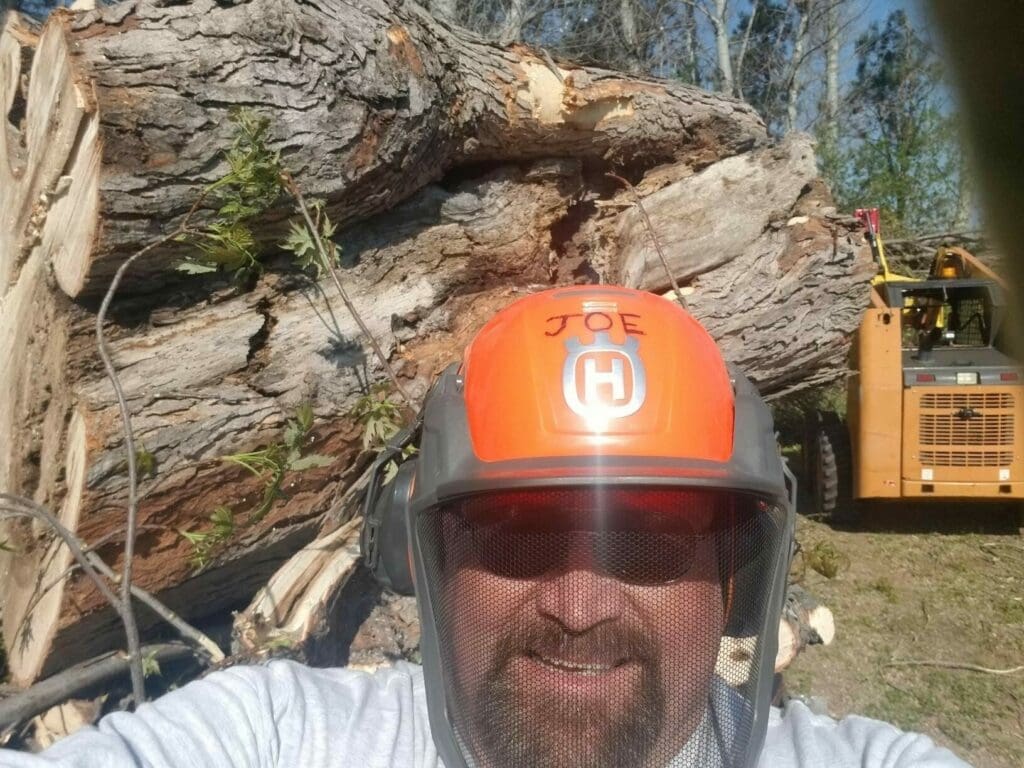 When Joe Harvey was released from prison four years ago, he didn't have a hammer or screwdriver to his name. His landscaping business in Windom was defunct. In four years, he rebuilt his business which includes a shop, two skid loaders, two trailers, tools, power equipment and several employees.
"Clean and sober living and living for the Lord had done that for me. All the glory goes to the Lord," Joe said. "Ever since I came home from prison, I've said 'God, you're the driver of my bus. As long as you are behind the wheel and I'm a passenger, everything goes really smooth.'"
Joe's journey through addiction began with opioid pain killers and led to methamphetamine and a 15-month stay in prison. He calls it the same old story that's so common in drug addiction.
While Joe may be done with pain killers, pain isn't done with Joe. As owner of Joe's Lawn Care, Tree and Snow Removal in Windom, he has a physically demanding job. Many days, he's up on a lift 45 feet in the air trimming trees with a chainsaw. He also chops down trees, hauls away the logs and cuts them for firewood. Then there's the landscaping work, snow removal and more.
Joe receives steroid injections and other treatments from the Mankato Clinic Pain Management Center. Treatments depend on what's hurting. "I've worn out my body with lots of hard work over the years," he said.
Joe received lumbar epidural steroid injections for leg pain in the spring.
"In this procedure, steroid is injected into the spine to reduce the inflammation surrounding the nerves. When the inflammation is reduced, the shooting pain down the leg will get better," Dr. Ifechi Anyadioha, MD, of the Mankato Clinic Pain Management Center, explained.
"I feel like a new man. I literally feel like I'm 35 years old again. I'm 63," Joe said. "I wouldn't be able to do what I do if it wasn't for those guys, not even close."
Dr. Ifechi also administers radiofrequency ablation to relieve Joe's low back pain. This procedure intercepts nerve transmission from the facet joints to the spinal cord and brain. Facet joints are the connections between the bones of the spine.
Joe's journey to better health also includes losing weight. Joe has lost 30 pounds with 20 pounds to go. Losing weight can go a long way in relieving pain and Joe is already feeling the benefits.
Recovery
A self-proclaimed adrenalin junkie with an addictive personality, Joe raced cars, boats and motorcycles. Looking back, it's no surprise that he became addicted to opioids and meth. In 1996, he was shot in the lower right leg in a freak accident that shattered his tibia and fibia above the ankle. It took three years to be able to walk on that leg and nine surgeries.
To relieve his foot pain, Dr. Ifechi treats Joe with a procedure called lumbar sympathetic nerve blocks. The block reduces the activity of sensitized nerves from an injury.
In the past, Joe was prescribed opioids for the pain – oxycodone and fentanyl. Designed for short-term use, Joe used them long term. His body built up a tolerance and he needed more to kill the pain.
"You always had anxiety because you were always worried that you'd have enough to control the pain until the next script could be filled. Then the withdrawal. If you would run out a little early, it was unbelievable. Terrible shakes and snakes crawling through the veins," Joe said.
Then somebody suggested he try methamphetamine and Joe was hooked. Next came trouble with the law. He completed a boot camp program in prison which included chemical dependency treatment and early release. While in prison, he also got close to the Lord.
Today he is a member of Narcotics Anonymous and Alcoholics Anonymous and sponsors others who are recovering. Joe celebrated five years of sobriety on January 16, 2021.
"Every moment I open my eyes, I just say Hallelujah," Joe said. "Clean and sober living is the only kind of living."
Relieve Pain & Renew Hope
Minnesota has seen a sharp increase in drug overdose deaths. Early data from the Minnesota Department of Health shows a 59% increase in opioid deaths from 2019 to 2020.
The Mankato Clinic Pain Management Center offers alternatives to opioids for pain relief. Michael Muchiri, APRN, CNP, and Dr. Ifechi Anyadioha treat the whole person, not just the pain. A treatment plan may include injections, implantable therapies, occupational therapy, physical therapy, mental health services and non-opioid medications. With access to specialists and therapists within the Mankato Clinic, patients can receive the treatment they need, close to home.
If you are in pan, your primary care provider can refer you to the Mankato Clinic Pain Management Center.