Children Thrive when They Create
February 19, 2021
by Kelly Bryan, DO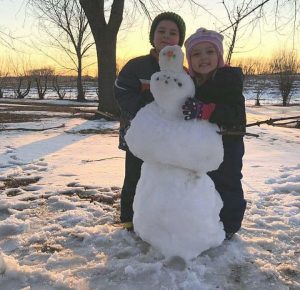 Kids like art because it's fun! A preschooler smiles over the gushy feeling and beauty of their finger paint creation. You notice the concentration on their face when they roll out the Play-Doh on the kitchen table. As they grow, you see the progress from scribbles to writing and from stick people to more realistic humans.
Did you know the creative arts play a key role in child development? We know that arts and crafts projects can help children build fine motor skills, attention span and confidence. Creative arts can also help kids solve problems, make decisions, use tools and express themselves.
Here are some simple ways to bring more art and creativity into your home.
Build a snowperson! Olaf was a fan favorite in "Frozen." Bundle up your kiddos and send them outside to create. If snowmen aren't their cup of cocoa, try making snow animals like turtles, bears and dogs!
Make an Art Studio in your home. Devote a corner or desk to art. Stock it with tools and materials: crayons, markers, pastels, glue sticks, kids blunt scissors, ribbon, boxes and containers, papers of different colors and textures. Think brown paper bags, tissue paper, round oatmeal containers, wrapping paper, coffee filters. Stamps and ink pads are an art media that even the littlest family members can enjoy.
Keep your arts and craft activities safe. Supervise young children during arts and crafts. Supplies, such as glue and paints should be stored safely out of reach of small children. Choose water-based paints. When buying supplies, look for the Approved Product seal from The Art and Creative Materials Institute. The seal indicates the product has been evaluated by a toxicologist. After art time is over, make sure your children clean up, put their supplies away and wash their hands. Another life lesson!
Making food is art too! Make meals, snacks and treats with your children. When they are young, they can create their own tortilla roll-ups with their favorite fillings – savory with cream cheese, shredded veggies, hummus, or sweet with peanut butter, fruit, chocolate chips. Show them how to slice in circles with a butter knife. They made their own pinwheels! As they get older, they can make family meals and desserts too.
Play dress-up. Keep a dress-up bin – old hats, purses, boots, Halloween costumes. Mom and Dad's old T-shirts make great capes. Encourage them to act out stories with props and costumes. That's theater! Allow for creative expression in making clothing choices for the day.
Dance and sing. Play music in your home – kids songs, pop, oldies, classical, Hawaiian, holiday and more. Your kids might love some wedding favorites. Do the Hokey Pokey! How about the Limbo or the Cupid Shuffle? Visit www.movedancelearn.com and subscribe to the Move Dance Learn You Tube channel for FREE 15 minute videos for kids on creative movement and music such as Creatures from the Sea, Jungle Jam, Safari, Space Adventure, Dinosaur Stomp!
The creative arts are a great swap for screen time too. And you get to enjoy their masterpieces, performances and giggles! Give them lots of praise and freedom to create along the way.