"Bluestone Vista Has Been My One Constant"
April 19, 2019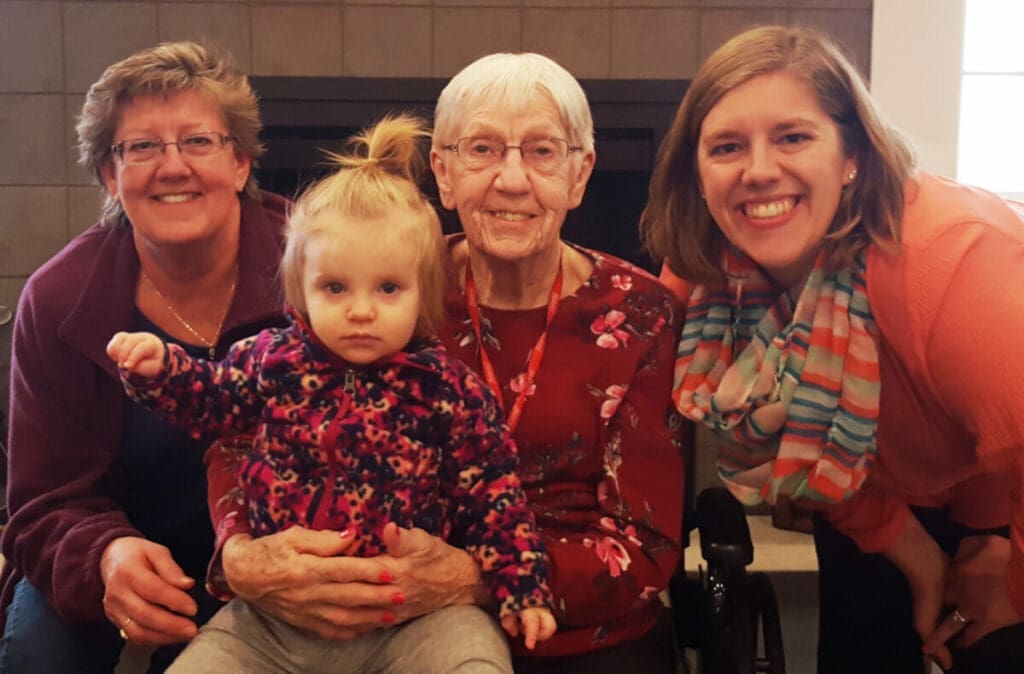 For Darlene Anderson and her daughter Cindi Baker, their Mankato Clinic care team led by Lora Magers, PA-C, has provided continuous care to Darlene and support to Cindi during a year filled with health issues and changes.
Mankato Clinic offers Bluestone Vista, a program that provides primary care to seniors in their assisted living, memory care and residential facilities. Mankato Clinic's Bluestone provider teams make monthly house calls to seniors in the comfort of their living facilities.
"We have been in and out of facilities, in and out of hospitals. Bluestone has been my one constant. They've been there," Cindi said.
Every month, Lora Magers and her team visit Darlene Anderson at Birchwood Cottages in North Mankato. Cindi is there for every appointment.
Darlene's dementia causes her short term memory loss, but she is still going strong. Due to a fall and a decline in her physical health, Darlene can no longer walk. Cindi is grateful for the on-site care. She discusses treatment, medications and pain management with Lora. Cindi is responsible for making the tough decisions about her mom's care.
"Lora has been truly supportive of me. With many elderly patients, there is also a caregiver. She's not only helping Mom, she's helping me," Cindi said. "My life has settled down because Mother's life has settled down."
Last year, Darlene fell at home. She was hospitalized three times, in rehabilitation twice and lived at Pathstone in their assisted living before moving to Birchwood Cottages.Having the Bluestone Vista provider team in different facilities was beneficial for both Darlene and Cindi.
Having Lora Magers visit her mom every month as she relocated was a huge relief. Mankato Clinic had all of Darlene's records so Cindi trusted her mom would get the best care.
Cindi also relies on the Bluestone Bridge, an online portal that gives her 24/7 access to the care team. When her mom was hospitalized and a medication change was recommended, Cindi declined, got on the portal and sent a message to see if Lora Magers supported the recommendation.
"No matter where we were and what happened, they were our constant," Cindi said.