Are you Due for an Annual Mammogram?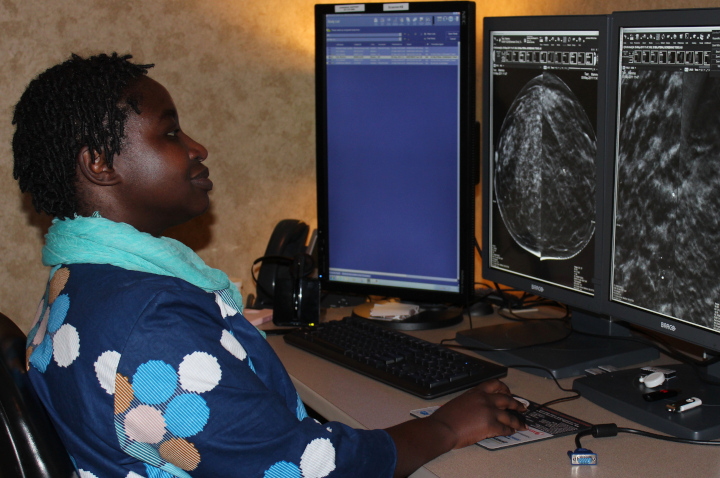 October 7, 2020
Maureen Magut Charette, MD, of Mankato Clinic reads a 3D mammogram, which shows radiologists a detailed view of breast tissue.
Did you know that being female is the biggest risk factor for breast cancer? If you're a woman who is 40 years old and better, annual mammograms are one of the best ways to defeat breast cancer.
Death rates from breast cancer have been declining since 1990, due to better screening and early detection, increased awareness, and continually improving treatment options. Today, there are over 3.5 million breast cancer survivors in the United States.
So let's look at screening and early detection, which for most women means annual screening mammograms. Screening mammograms are performed on women who have no symptoms or signs of breast cancer. The American College of Radiology recommends that women of average risk should get annual mammograms beginning at age 40.
If you have a higher risk for breast cancer, annual mammograms may be recommended earlier. Risk factors include a parent, sister or child with breast cancer or a known gene mutation based on genetic testing. Other less commonly known risk factors include dense breasts and alcohol consumption. All women, especially black women and those of Ashkenazi Jewish descent, should be evaluated for breast cancer risk no later than age 30, so those at higher risk can be identified and can benefit from supplemental screening.Talk with your primary care provider to see when it's right for you to begin screening mammograms.
Mammograms are one of the most effective tools in detecting breast cancer in its earliest stages when it's small and easiest to treat. According to the American Cancer Society, decades of research show that women who have regular mammograms are more likely to find breast cancer early and less likely to need aggressive treatment like surgery to remove the breast and chemotherapy. And they are more likely to be cured.
Mammograms are not a one and done! Annual mammograms help us compare your breast tissue from year to year and look for any changes in your breasts. Mammograms are the most effective tool to detect cancer before you feel a lump or notice symptoms.
We recommend 3-dimensional tomosynthesis (TOMO) screening mammograms. The machine looks the same, but we see a more detailed view of the breast tissue. In fact, 3D mammograms are proven to detect more breast cancers in all women and all breast types. That's why 3D mammograms are the first choice in breast cancer screening.
Less call backs are another benefit of 3D mammograms. With conventional 2D mammograms, many women are called back for additional imaging. With the technology of 3D mammograms, we have reduced these call backs by 40 percent.
And many insurance plans cover 3D mammograms just as they do conventional ones. Women are encouraged to call the number on the back of their insurance card to check coverage.
So make an annual mammogram part of your healthcare routine. If you are 40 or older or have a family history of breast cancer, contact your primary care provider about screening mammograms today.
Take care of yourself!