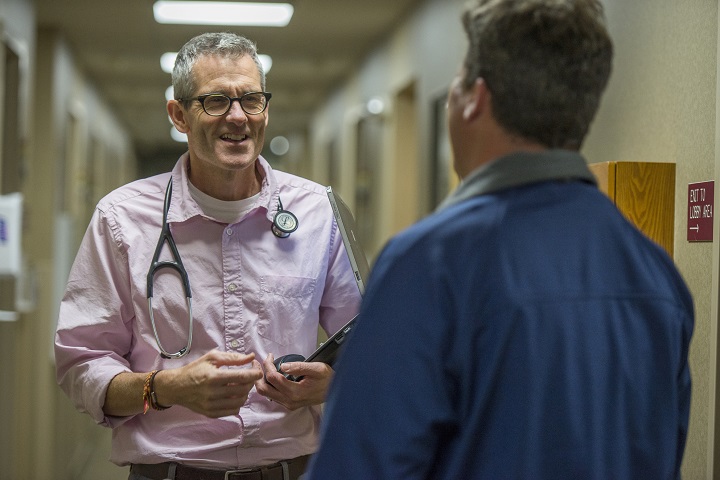 We are passionate about your health, the health of your family and this entire region.
We believe that the people who live and work here deserve the best care available close to home. Our primary care clinics are located throughout Mankato and the surrounding communities to provide coordinated, comprehensive and easy to access care for every member of your family.
A Team Focused on Your Health
At Mankato Clinic, we practice a health care home model of care. A health care home offers you a core team of trusted providers led by your primary care doctor. Your team helps you manage every aspect of your care, working together with you to keep you well and manage ongoing chronic illnesses, as well as reduce your risk of developing a chronic disease in the future.
Our primary care providers include:
Family practice providers
Our family practice providers are trained in all areas of medicine and see patients of all ages, from newborns to seniors. They are experts in preventing and treating illnesses, as well as helping people effectively manage chronic medical conditions.
Internal medicine providers
Our internal medicine providers care for adults. They are experts at solving puzzling diagnostic problems where several different illnesses may strike at the same time, as well as preventing and managing chronic illnesses.
Pediatricians
Our pediatricians manage the physical, behavioral and mental health of children from birth through adolescence. They diagnose and treat a broad range of childhood illnesses from minor health problems to serious diseases.
Obstetricians/gynecologists.
Our obstetrician/gynecologists (OB/GYNs) provide care to women and have particular expertise in pregnancy, childbirth and problems that affect the reproductive system.
Understanding the different types of primary care providers.
Sometimes it is hard to understand what the initials behind your care provider's name mean.
MD and DO
Medical Doctors (MD) and Doctors of Osteopathy (DO) are both licensed physicians.
The main difference is the type of medical school they attend, either medical or osteopathic. Osteopathy deals with how the body moves and how it affects a person's health.
APRN,CNP
Nurse Practitioners complete a master's level clinical education. Nurse practitioners and clinical nurse specialists must complete a period of supervised or collaborative practice. After that time period (2,080 practice hours), they practice medicine and prescribe medications independently for their patients.
PA-C
Physician Assistants also complete a master's level education. New PAs (those with fewer than 2,080 practice hours) are required to collaborate with a physician practicing in a similar medical specialty. After that time period, PAs engage in an annual review with a physician within the same practice or facility as the PA and no additional physician oversight is required when practicing medicine or prescribing medication.
Same day appointments are often available.
Phones are answered beginning as early as 7 a.m.
---
Get to know our providers here.
---
We have convenient walk-in care at our Urgent Care location. Click here for more information.
---
Concusion Testing is Offered at All Primary Care Locations
The Mankato Clinic Foundation has provided funding for ImPACT®—a concussion management program provided to school and community athletic programs to safely determine when athletes can return to play
Colorectal Cancer Screenings
Are you at risk for colorectal cancer?
Do You Have Questions?
Learn more about what is involved in a sleep study.