Two Students Receive J. Scott Sanders M.D. Memorial Scholarships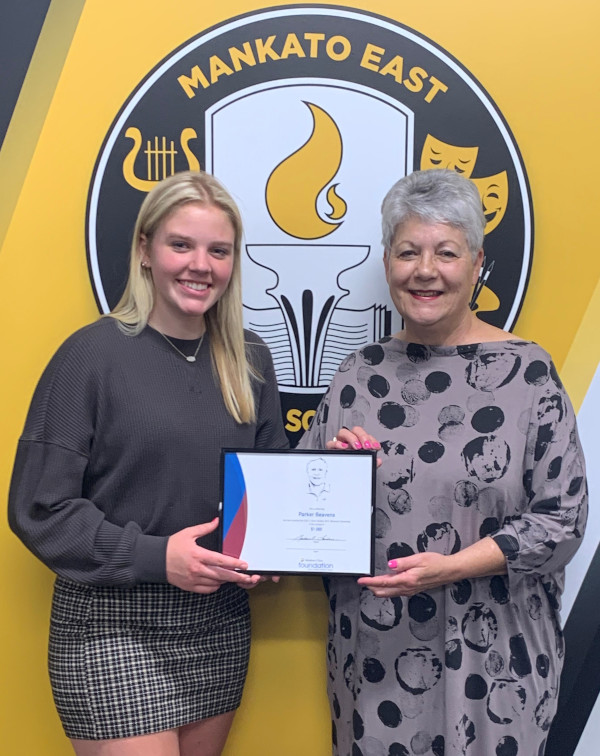 MANKATO (June 2, 2022) — The Mankato Clinic Foundation awarded J. Scott Sanders, M.D. Memorial Scholarships to Parker Beavens, Mankato East High School graduate, and MacKenzie Pettis, Saint Peter High School graduate.
Each student receives a $2,000 scholarship. Beavens will be attending Michigan State University and Pettis will be attending South Dakota State University.
The scholarship honors J. Scott Sanders, M.D., Mankato Clinic's beloved physician, pulmonologist and critical care specialist, who died in May 2006 after a courageous battle with cancer. Mankato Clinic Foundation has developed the J. Scott Sanders, M.D., Memorial Scholarship for high school seniors.
Dr. Sanders' character was renowned in all aspects of his life which resulted in an unforgettable and lifelong impact on others. To apply for the scholarship, applicants must write about how character has been important in their life, the role it will play in their future and how they recognize character in others.
"When we read these essays from our young people, I am deeply moved by their life experiences, lessons learned and depth of their characters. We have some impressive young adults in our community," said Barb Sanders, widow of Dr. J. Scott Sanders.
In her essay, Beavens wrote about her swim team and the tragic death of her teammate to suicide. She wrote: Dealing with not only my own struggles caused by this loss, but also taking on the emotions of those around me through the role of captain was a very painful experience. …Through my leadership position, I have been able to assist my team in raising money toward a local mental health organization, facilitated and hosted swim meets in honor of our teammate and started fundraisers that have grown to become integrated in multiple schools and the surrounding community.
In her essay, Pettis wrote about the spring of her junior year when her mom was diagnosed with cancer. She wrote: I learned how to be self-sufficient while caring for my mom, keeping up with the chores and putting my feelings aside. …Through this experience I have become a strong, independent girl who values the importance of time and family. Every day since my mom was diagnosed, I have made an effort to be there for people. To show up while I grow up.
To be eligible for the scholarship, the applicant must be a high school senior and reside within the Mankato Clinic service area, which includes Mankato, North Mankato, St. Peter, Lake Crystal, Mapleton and nearby communities. For more information, click here.