Ian Barnes of Janesville receives J. Scott Sanders, M.D., Memorial Scholarship
MANKATO (May 22, 2023) — The Mankato Clinic Foundation awarded the $2,000 J. Scott Sanders, M.D., Memorial Scholarship to Ian Barnes, Janesville-Waldorf-Pemberton High School graduate. Barnes will be attending Minnesota State University, Mankato, in the fall.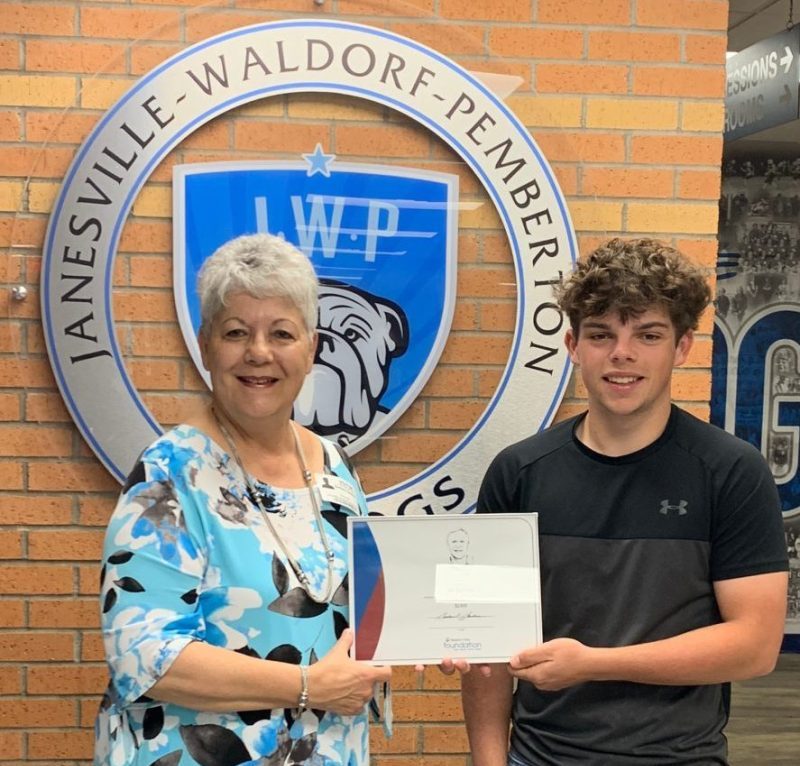 Barb Sanders awarded the J. Scott Sanders, M.D., Memorial Scholarship to Ian Barnes of Janesville.
The scholarship honors J. Scott Sanders, M.D., Mankato Clinic's beloved physician, pulmonologist and critical care specialist, who died in May 2006 after a courageous battle with cancer. Mankato Clinic Foundation has developed the J. Scott Sanders, M.D., Memorial Scholarship for high school seniors.
Dr. Sanders' character was renowned in all aspects of his life which resulted in an unforgettable and lifelong impact on others. To apply for the scholarship, applicants write about a time when their character or someone else's character made a difference in their life or the lives of others and what they learned from this experience.
"When we read these essays from our young people, our scholarship committee is moved by their life experiences, lessons learned and the depth of their characters. We have some inspiring young adults in our community," says Barb Sanders, widow of Dr. J. Scott Sanders. "We chose Ian as our 2023 scholar because he showed us how his uncle taught him how to treat all people with respect, how to find joy in life, and how to stand up for your principles."
In his essay, Barnes wrote about his uncle Brandon, who has Down syndrome. He wrote: Having Brandon in my life has allowed me to see that people with disabilities are special and they deserve to have people that will talk and interact with them just like everyone else.
To be eligible for the scholarship, the applicant must be a high school senior and reside within the Mankato Clinic service area, which includes Mankato, North Mankato, St. Peter, Lake Crystal, Mapleton and nearby communities. For more information visit www.mankatoclinic.com/foundation-pages/mankato-clinic-foundation.
About Mankato Clinic Foundation
A small, dedicated group of physicians started the Mankato Clinic Foundation in 1965, making it one of the oldest foundations in Minnesota. In the last 10 years, the foundation has given more than $2 million to fund local programs, scholarships and organizations that improve people's health and wellness. The foundation receives the majority of its funding from Mankato Clinic physicians, along with giving by Mankato Clinic staff and the greater Mankato community.