Carmen learns to thrive with diabetes
"My diabetes is more like a flowing river instead of a mountain range now," Carmen says.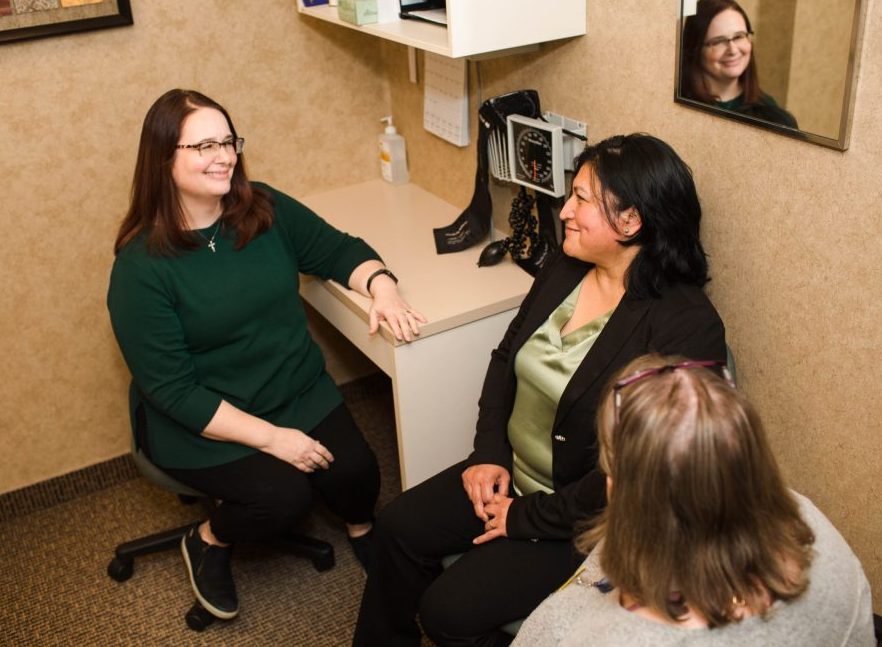 Hope Hartig, nurse practitioner, talks with Carmen about her bloods sugar levels.
When Maria Mendez De Balcazar, who goes by Carmen, was diagnosed with type 2 diabetes in September 2021, she was afraid. She knows what diabetes can do. In her own family, she has seen diabetes lead to amputation, blindness and kidney dialysis.
So Carmen began treatment at the Mankato Clinic Diabetes Care Center. Her A1C, her average blood sugar level, was very high at 11.3%. Type 2 diabetes means the body doesn't use insulin well which causes too much blood sugar to remain in the bloodstream. Over time, high blood sugar can lead to heart disease, vision loss and kidney disease.
Hope Hartig, APRN, CNP, CDCES, is a nurse practitioner and diabetes educator, who cares for Carmen, a Spanish-speaking patient.
"Since I started meeting with Hope, she's treated me like family. She listened to my fears and helped me through all this. I feel like here I've been given the best school," Carmen says.
"Diabetes care is all about knowledge," Hope says. "In many cultures, people think you die from diabetes. It doesn't have to be that way. We cut down those risks."
To support patients, the Diabetes Care Center brings together a team of medical providers to include an educator, dietitian, and clinical pharmacist. Treatment plans combine lifestyle changes in diet and physical activity, medication, glucose monitoring, and sometimes insulin.
Cost barriers
When first diagnosed, Carmen didn't have health insurance; she paid for all her visits and medicine on her own. To ensure Carmen received the most effective, yet affordable, treatment, Hope prescribed an older, lower-cost insulin.
"With this type of insulin, you have to be really careful and eat food at certain times. We made this compromise to keep costs the same – $25 a vial was affordable," Hope says.
Hope taught Carmen about carbohydrates and their role in raising blood sugar. She showed Carmen how to count and reduce carbs as well as what carbs to eat – oatmeal and fruits – and what carbs to limit – refined grains such as white rice, bread and pasta.
"Everything my care team has talked to me about, I've tried to put into action," Carmen says.
"We can teach you all of this but you chose to make changes," Hope says. "You're willing to do this and that makes all the difference. If we don't control diabetes, diabetes controls us."
Every day, Carmen makes fresh corn tortillas, which are naturally whole grain. Whole grains have fiber to slow digestion and keep the blood sugar from rising quickly. Carmen also needed to adjust the portion size. Now Carmen makes 6-inch instead of 12-inch tortillas and eats 2 instead of 4 to 6. To the rice and beans, Carmen leaned to add more protein, vegetables and healthy fats to help control blood sugar, raise nutrition and boost satisfaction.
Mankato Clinic social worker Jenna Miller, LSW, helped Carmen get health insurance. When coverage began in June, Carmen was able to see dietitian Holly Ellison, RD, LD, to learn more about following a balanced eating plan to meet the body's nutritional needs and better manage diabetes.
"I know a lot about diabetes and nutrition and our patients are experts on themselves and they know what's going to work for them," Holly says. "So together we work through practical tips to address daily challenges and make sure they get the nutrients their body needs to help control blood sugar levels."
Carmen also eats a light snack before bed to even out her morning blood sugar. Hope and Holly taught her that the liver makes glucose when the body goes too long without eating.
"A solid partnership can be a great foundation for positive changes and better diabetes management," Holly says. "The day-to-day management is up to our patients."
Once Carmen had health insurance, Hope prescribed a newer, more flexible, insulin treatment and a continuous glucose monitor. Now Carmen can check her blood sugar levels instantly on her smartphone so she knows when her levels are going up or down and make adjustments. Hope can also view Carmen's levels for more precise care.
Hope compares the older method of testing blood sugar with finger pricks four times a day to driving with your eyes open four times. With the continuous glucose monitor, you have your eyes open the entire time you are driving.
Happy & Healthy
Today, Carmen's A1C is well controlled. Her treatment plan includes healthy eating, physical activity, medication, continuous glucose monitoring and insulin.
"This showcases what a system that's working can do for a patient who wants to do the work and is willing to participate in their care," Hope says. "We're a team. And it takes all of us."
Carmen says she feels like a new person. As a wife and mother, her family and home mean the world to her. By keeping diabetes under control, Carmen can fully be there for her family and all life has to offer.
When Carmen expresses her eternal gratitude to Hope, Hope tells her "All I want is for you to be healthy, happy and have no complications."