Telehealth Visits : FAQs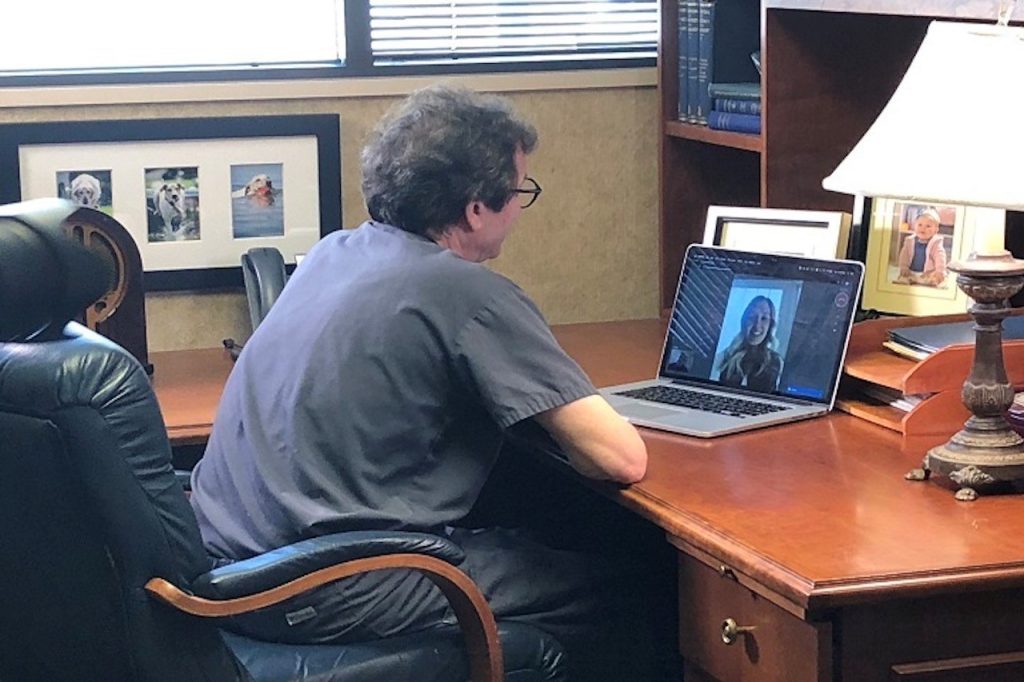 The Mankato Clinic is now offering secure telehealth visits with your Mankato Clinic healthcare providers. This option allows you to have an appointment with your provider or without having to leave your home during the COVID-19 situation.
To schedule a telehealth visit, call 5076251811.
Helpful Ideas for Telehealth Therapy Sessions With your Kids

Dr. Weerts explains a telehealth visit
Preparing for Your Telehealth Visit
Telehealth visits are audio and video visits with your provider using your tablet, smartphone (Apple or Android) or any other internet-connect computer or device with the camera and microphone enabled. Your provider will initiate the appointment by sending you a link via text or email. Telehealth visits are secure and also HIPAA-compliant.

Mankato Clinic providers will continue to see patients in the clinic when the visit, therapy or procedure is not an option for telehealth. By conducting telehealth visits, we can better limit exposure and practice social distancing in our lobbies.
All you will need is a smart device(Android or Apple), computer or other device with camera and microphone. Learn how to be prepared for your upcoming telehealth visit here
Teleheath visits are a great fit for many patients and work very well in all departments and specialties across the clinic. For upcoming appointments, we are contacting patients to see if a telehealth visit makes sense for each person and situation. We understand that not all visits can be completed this way but many can. If you need to schedule an appointment, call your healthcare provider to see if a telehealth visit is a good option for you. You may also call 507-625-1811 to schedule a telehealth visit.
Telehealth visits are very easy for our patients. Your provider will send you a link in a text or email at your scheduled appointment time. All you have to do is click on the link to begin your visit. Next, you will receive a Consent Form. You will need to check a box to accept the terms of service and then select AGREE. You will be asked to allow access to your camera and microphone. Choose "Allow." Then your telehealth visit will begin. You and your provider will be able to see and hear each other. Scroll to the bottom of the page for images that illustrates these steps.

Simply treat the appointment with the same attention as you would a normal office visit at the clinic. Make sure you have a piece of paper and pen in case you need to write down any instructions from your healthcare provider. Other helpful tips include:

Make sure your computer or mobile device is charged or plugged into a power source.
Establish a secure internet connection with your computer or mobile device. Wired connection is better than wireless (Wi-Fi). Wired or wireless connection is better than cellular data for mobile devices.
Minimize other websites/applications running on your computer or mobile device while participating in the video visit.
To reduce internet interruptions, makes sure no one else in your household is streaming. This would include Netflix, gaming, YouTube videos and other online activities.
Find a private space in a quiet, well-lit area without distractions including pets and family members. Take a seat, if possible (so you don't move).
Set the camera down at eye level, if possible (rather than holding it).
Dress as you would if you were being seen in the clinic.
Have your phone ready in case your care team needs to contact you for any reason.
Telehealth visits are billed and covered in the same way that face-to-face office visits are. Most insurance companies are covering telehealth visits at the same rate as office visits. Call your insurance company to check on coverage.