Scott Barnacle MD
Dr. Barnacle is currently accepting new patients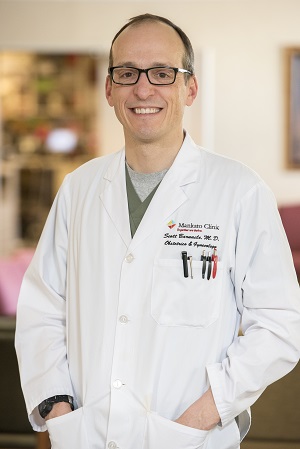 "I became an OB/GYN provider because I really enjoy taking care of women during their pregnancies. I find the whole experience wonderful from the first ultrasound to the delivery."
About Dr. Barnacle
"I enjoy doing surgery because when patients have a problem that I can fix surgically the results are felt immediately."
Personal Information & Interests
Besides being a physician, Dr. Barnacle is a father and a runner. He enjoys reading, watching sports and traveling.
Expertise & Clinical Interests
Dr. Barnacle's clinical interests include minimally invasive gynecology surgeries and caring for patients during prenatal care from conception to birth.

Dr. Scott Barnacle's approach and philosophy as a physician is to be an educator and a facilitator for his patient's health and well-being. His patients describe him as friendly, engaging, a good listener who takes into consideration all of their concerns and knowledgeable about his specialty.
Education
Medical Degree

Uniformed Services University of the Health Sciences, Bethesda, MD

Residency

San Antonio Uniformed Services Health Education Consortium, San Antonio, TX

Board Certification(s)

American College of Obstetrics and Gynecology
Additional Details
Dr Barnicle always explains things thoroughly. It's clear he Is very knowledgeable. He listens to my concerns. The only reason I ranked the likelihood of recommending question lower is the wait time. I think Dr Barnicle is an excellent doctor and again, I don't fault him for the wait time.
Patient Rating