Mankato Clinic Joins Statewide 'Ask About Aspirin' Initiative, Kickoff at Mall of America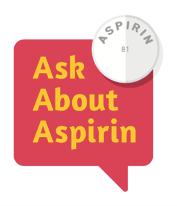 Tuesday, May 31, 2016
Sixteen thousand Minnesotans suffer their first heart attack or stroke every year. That's just one reason why Mankato Clinic has joined the Minnesota Heart Health Program's 'Ask About Aspirin' initiative with leading healthcare providers from across the state. Their collective goal is to prevent at least 10,000 heart attacks and strokes in Minnesota over the next four years – including those that would likely occur in this region.
Initiative partners will host a day-long community conversation Thursday, June 2 in the Mall of America Rotunda in Bloomington, Minnesota, with a press conference from 10:30 – 11:30 a.m. featuring public officials and health experts. On a 200-square foot interactive display during the event will be the thousands of heart-shaped #IWILL (ask about aspirin) pledges collected by Mankato Clinic and other participating partners throughout May.
"The Ask About Aspirin project helps our patients stay healthy by reducing their risk of heart attack and stroke," Mankato Clinic Chief Medical Officer, Julie Gerndt, M.D., said. "It highlights the tools we have available to help our patients and community thrive."
"Consulting with one's health care professional is the best way to determine whether taking aspirin is appropriate," said Alan Hirsch, M.D., Director of the Vascular Medicine Program at the University of Minnesota Medical School. This initiative specifically encourages men and women ages 50-69 to ask their health care professional whether they should take daily aspirin to help prevent a first heart attack or stroke.
In reducing the number of first heart attacks and strokes, the initiative aims to sustain individual health, promote community health, and lower the economic burden of preventable cardiovascular diseases, a leading cause of death in Minnesota.
"An important cornerstone of this initiative is the close relationships we're developing with health care professionals across the state. We rely on the expertise and relationships they have with their patients, and we are committed to providing the informational tools needed at a community level," said Russell Luepker, M.D., M.S., Mayo Professor at the University of Minnesota School of Public Health, Division of Epidemiology and Community Health.
The 'Ask About Aspirin' initiative was launched by the Minnesota Heart Health Program (MHHP) and designed by the University of Minnesota Lillehei Heart Institute, in partnership with the University of Minnesota School of Public Health, the Minnesota Department of Health, and a Community Advisory Board, including the American Heart Association, Minnesota Medical Association, American College of Cardiology (Minnesota Chapter), Minnesota Academy of Family Physicians, Minnesota Community Measurement, and Institute for Clinical Systems Improvement. MHHP is also an official partner of the U.S. Department of Health and Human Services Million Hearts® project.
The initiative is funded by the University of Minnesota Lillehei Heart Institute and a grant from the National Heart, Lung, and Blood Institute (NHLBI).
For more information or to take a self-assessment to find out if you are a candidate for daily aspirin, visit www.AskAboutAspirin.org.