Mankato Clinic Foundation Awards $5,000 for Rideshare Project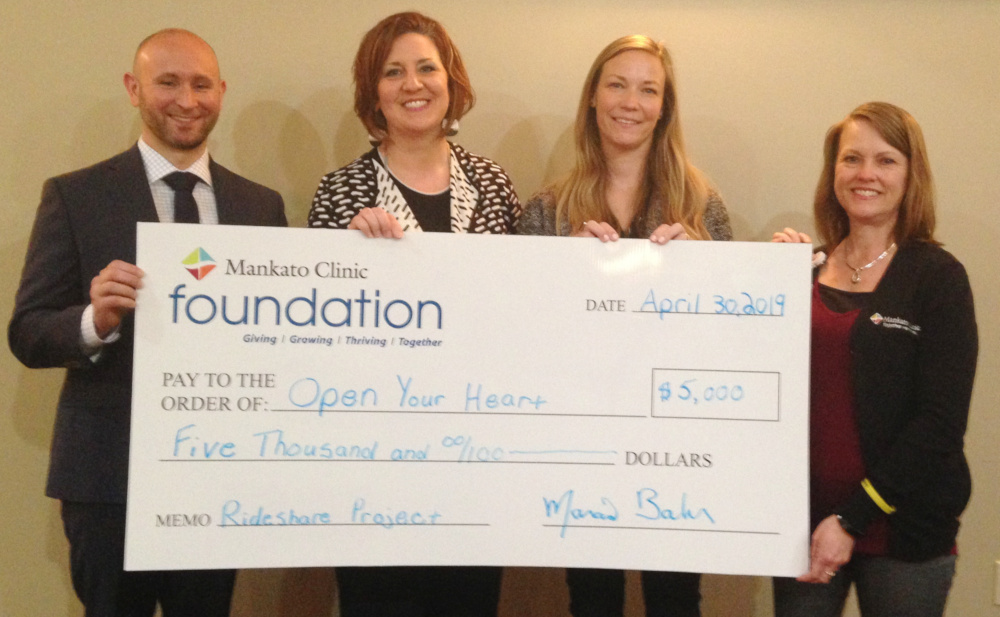 MANKATO (April 29, 2019) — The Mankato Clinic Foundation has given $5,000 to Open Your Heart to the Hungry and the Homeless for its Rideshare Project. This project provides technical assistance and funding toward rides through ridesharing – providing access to work, medical appointments, crisis services, and school for Minnesotans who are homeless or at risk of becoming homeless.
In 2018, the Mankato Clinic Foundation provided $3,750 to Open Your heart for Rideshare, which resulted in 1,351 rides for clients of CADA and Partners for Affordable Housing.
"The Mankato Clinic Foundation is proud to help fund this project. With reliable transportation, people in crisis can secure housing, attend medical appointments and be employed," said Marcia Bahr, Mankato Clinic Foundation president.
The Mankato Clinic Foundation funds initiatives to promote the health and well-being of our community. This collaboration will help the Mankato Clinic Foundation support families in crisis.
"The lack of reliable and affordable transportation is a significant barrier for people who are homeless, or at risk of becoming homeless, to achieving stable housing or self-sufficiency. A ridesharing program has the potential to help people overcome that barrier. We are grateful to partners like the Mankato Clinic Foundation for making this project possible," said Jessica Mathias, Open Your Heart Executive Director.
About Mankato Clinic Foundation
A small, dedicated group of physicians started the Mankato Clinic Foundation in 1965, making it one of the oldest foundations in Minnesota. Since that time, the foundation has expanded its reach by supporting community health events and offering educational health-related programs to the community. The foundation receives the majority of its funding from Mankato Clinic physicians, along with giving by Mankato Clinic staff and the greater Mankato community.
About Open Your Heart to the Hungry and Homeless
Open Your Heart looks for gaps in funding of services based on geographic or demographic considerations and reaches out to agencies serving those communities. Since 1986, they have supported programs in communities where many traditional funders do not reach. Their primary goal is to ensure that front line providers of crisis services have the tools, equipment and infrastructure necessary to carry out their work.