CMO Dr. Julie Gerndt Captures Audience with Mental Health Discussion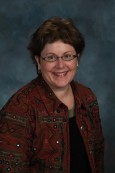 Friday, March 13, 2015
Mankato Clinic Psychiatrist and CMO Dr. Julie Gerndt shared her wisdom and views on the mental health field during the March 6 edition of First Fridays at First Church.
The monthly speaker series at First Presbyterian Church is a free event that presents compelling speakers who consider key issues from an ethical and spiritual perspective.
For the majority of her career, Gerndt has envisioned a world in which everyone has the opportunity to make choices that allow them to live a long, healthy life regardless of their income, education or ethnic background.
"Not all of us are born with good health or a physical body and a brain that stays as healthy as easily as others," she said. "Some of us need more help."
With alarming statistics, including one in five people experiencing some sort of mental illness or brain dysfunction during a lifetime, Gerndt said for all of the money the U.S. spends in medical research and care; we should be the healthiest people on earth.
"Even treatable conditions, such as depression, can seriously disrupt our lives," she said. "It leads to more difficulty working, succeeding in school and more trouble maintaining relationships and meeting family responsibilities. However, there are still serious barriers to treating people in need because of the stigma attached to having a mental illness. After 30 years of practicing medicine, I find this disappointing."
Gerndt told the audience of more than 50 people that in order for America to lead in healthcare, it requires three steps.
"We need to ensure everyone can afford to see a doctor when they are sick," she said. "We need to build preventative care like screening for cancer and heart disease into every health care plan and make it available to people who otherwise won't, or can't, go in to see a doctor for it, in malls and other public places where it's easy to stop for a test. We need to stop thinking of health as something we get at the doctor's office, but instead as something that starts in our homes, our schools and our workplaces … in our playgrounds and parks, in the air we breathe and the water we drink."
After nearly three decades in the mental health profession, Gerndt said it's time to expand the way society thinks about health to include how to keep it, not just get it back.
"We know that the conditions in which we live and work have an enormous impact on our health, long before we see a doctor," she said.
For Gerndt, the math is easy and shows that 30 percent of the country's health care resources are spent inefficiently, stopping citizens from getting the best healthcare for their dollar.
"Taking care of our mental health is the single most important change we can make in our health care system because it will affect the largest number of people and is the single greatest opportunity to use our resources more wisely," she said.
Before opening up the floor for questions from the captivated audience, Gerndt expressed a call of action that she thinks needs to be the next step in mental health care.
"The public and private heroes should join together," she said. "The leaders across industries and our community should partner up – we need to make a plan. We need to figure out what works and do it. We need to promote the best ways to be healthy and tell everybody."