Benjamin Broze Awarded J. Scott Sanders M.D. Memorial Scholarship
Monday, June 01, 2015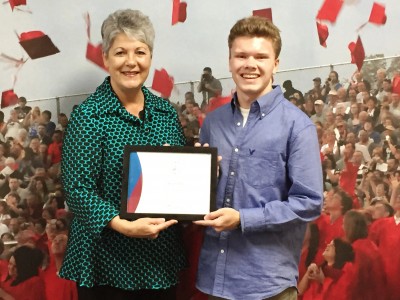 Mankato West High School senior Benjamin Broze has been awarded the J. Scott Sanders M.D. Memorial Scholarship through the Mankato Clinic Foundation. Dr. Sanders widow, Barb, presented Broze with scholarship May 20.
The $2,000 scholarship is awarded annually in remembrance of J. Scott Sanders. In May 2006, the Mankato Clinic lost Dr. Sanders, one of its most beloved physicians, pulmonologists and critical care specialists after a courageous battle with cancer. Dr. Sanders' character was renowned in all aspects of his life, which resulted in an unforgettable and life-long impact on others.
The scholarship committee unanimously chose Broze for his essay entitled "The Emily Effect." Per scholarship rules, applicants were to write about how character has been important in achieving their accomplishments to date, how it will be a key cornerstone of their future and how they recognize character in others. In his essay, Broze discussed how his older sister, Emily's, character and moral qualities have shaped him into the person he is today.
Broze is the son of Maureen Gustafson and Joseph Broze. In the fall, Broze will be attending Southwest Minnesota State University.