Top 5 Ways to Eat Mindfully
May 24, 2022
What is mindful eating? Mindful eating is the practice of bringing awareness and a state of full attention to your experiences, cravings, and physical cues when eating, without judgment. The practice of mindful eating involves: Eating slowly and without distraction Listening to physical hunger and fullness cues Differentiating between physical hunger and non-hunger triggers for … Continued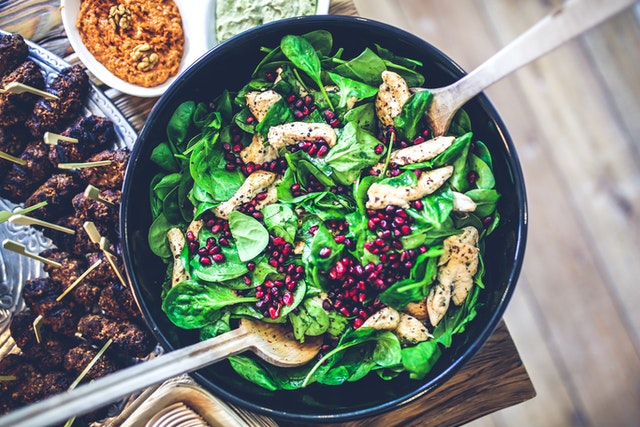 What is mindful eating?
Mindful eating is the practice of bringing awareness and a state of full attention to your experiences, cravings, and physical cues when eating, without judgment.
The practice of mindful eating involves:
Eating slowly and without distraction
Listening to physical hunger and fullness cues
Differentiating between physical hunger and non-hunger triggers for eating (social eating, habits, emotions, etc.)
Engaging your senses by noticing colors, smells, sounds, textures, and flavors
Appreciating your food
Eating to honor one's health through nutrition
Challenging judgements about food and the body
Research is continuing to show that mindful eating can lead to greater psychological well-being, increased enjoyable eating experiences, and body satisfaction. Anyone can practice a more mindful approach to their eating experience. So, where can you start?
1. Eat without distractions: Do you eat while staring at a computer screen, phone or TV? You're not alone. Distracted eating has become a way of life. One of the most common subtle cues our body provides us when we are no longer hungry is food becomes boring. This can go unnoticed when our attention is not on our food and our body. Put down your phone and allow yourself to enjoy the food and company of others.
2. Slow down: Life is busy and taking time out of the day to solely focus on your eating experience seems like a luxury. By prioritizing your mealtime you will have greater success in mindful eating. Start small. Begin practicing on one meal per day using mindful eating. This will allow you to slow down and enjoy each bite of food, which in turn leads to greater awareness of fullness and satisfaction.
3. Eat when you are gently hungry: Your body cannot tell the difference when you are just putting off your next meal or starving. Have you ever heard of the term hangry? It's a real thing. At this point, you are ravenous and mindful eating is out the window. Your thoughts are consumed with when, where and what your next meal is. This can lead to overeating, obsessive food thoughts, and sometimes binge eating. Instead of waiting until your stomach is growling for food, be more mindful about your hunger throughout the day. Try packing snacks wherever you go to prevent hanger.
4. Choose food you truly enjoy, not food you think you SHOULD eat: Being mindful about your eating habits and experiences is not listening to what others have to say. It's about your say and how YOU feel. Just because your best friend swears by a new diet, doesn't mean you should neglect the foods that give you positive eating experiences. Eating mindfully is choosing foods that make you feel good. Explore what you're truly hungry for and what you enjoy. Start by asking yourself these two questions: What do I want? What does my body need? This will lead to a more positive and satisfactory eating experience.
5. Check in during the eating experience: Have you ever been part-way through a snack or meal and realized you're not enjoying it anymore? Listen to your intuition. Don't eat it just because it is in front of you. This can lead to an unsatisfying eating experience, and you may find yourself back in the kitchen shortly after. First, check in and see if you are still physically hungry and if not, save the rest of the food for another time. You can always come back to that specific snack or meal or pick something else more enjoyable.
Molly Smith, dietetic intern, contributed to this article.
Learn more about Nutrition Education at Mankato Clinic.