Top 5 Ways to Be Sun Safe
July 18, 2022
More than 90 percent of skin cancers are caused by sun exposure! Limiting sun exposure is one of the best ways to help prevent skin cancer. Remember, there's no such thing as a healthy tan. Tanning is how the body protects itself from the sun's UV (ultraviolet) rays. Expert Advice Stay hydrated: Did you know … Continued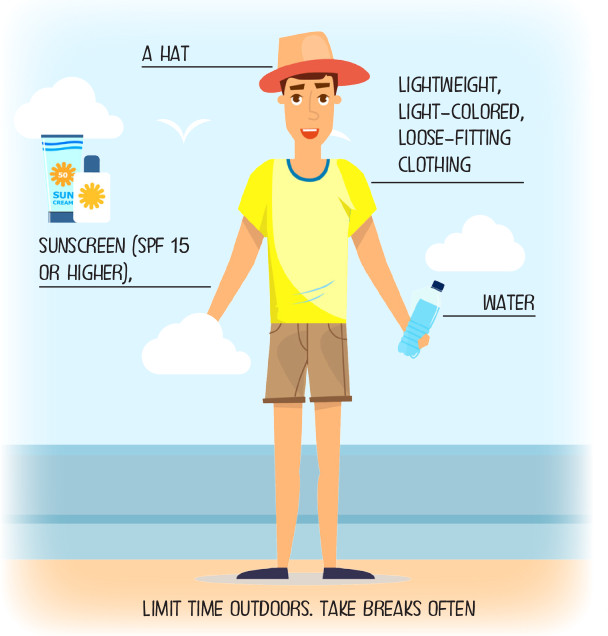 More than 90 percent of skin cancers are caused by sun exposure! Limiting sun exposure is one of the best ways to help prevent skin cancer. Remember, there's no such thing as a healthy tan. Tanning is how the body protects itself from the sun's UV (ultraviolet) rays.
Throw shade. The sun's rays are strongest from 10 a.m.-4 p.m. Try to stay in the shade during these hours. At the lake or sporting event, find a tree or throw shade with an umbrella, canopy or shade tent. Remember trees and canopies do not offer complete sun protection. Show your children if their shadow is shorter than they are, the sun's rays are strongest and they should protect themselves.
Cover up. Wear lightweight, long-sleeved shirts and pants. Try clothing with UPF (Ultraviolet Protection Factor) ratings. UPF of 30+ offers good protection while UPF 50+ offers excellent protection. For instance, UPF 50+ blocks 98% of UV rays while a white T-shirt has a UPF of about 7! UPF swim shirts are a great choice for children and adults alike.
Wear a hat and sunglasses. Wear a hat with a 2-3 inch brim all around. Remember, ball caps don't shade the ears or back of the neck. Hats also protect the top of the head and scalp – a very common place for skin cancer to occur. Sunglasses protect the eyes from UV rays that can increase your risk for developing cataracts, macular degeneration or other eye conditions.
Select the right sunscreen. Choose a broad spectrum sunscreen which protects the skin from ultraviolet A (UVA) and ultraviolet B (UVB) rays, both of which cause skin cancer. Choose a sunscreen that is SPF 30 or higher. You can choose between "water resistant" for 40 minutes or "very water resistant" for 80 minutes. Remember, no sunscreen is waterproof or sweat proof. Dermatologists also recommend lotions over sprays.
Use sunscreen freely. Use enough sunscreen to cover all skin that clothing doesn't cover. Most adults need about 1 ounce, or enough to fill a shot glass, to fully cover the body. Apply sunscreen to dry skin 15 minutes before going outdoors. Don't forget the tops of the feet and ears. To protect the lips, use a lip balm with an SPF of 15+. Reapply sunscreen every 2 hours, after swimming or sweating, even when cloudy. Remember, sunscreen is just a filter and doesn't block all UV rays. Use all of these tips to protect yourself.
Expert Advice
Stay hydrated: Did you know that sunburns affect your body's ability to cool down and can make you dehydrated? When the heat is on, water is still the best way to hydrate and replace the water you lose when you sweat. Drink small amounts of water frequently and before you feel thirsty.