Jim Hansen Is 'Living Well with Diabetes'
October 28, 2019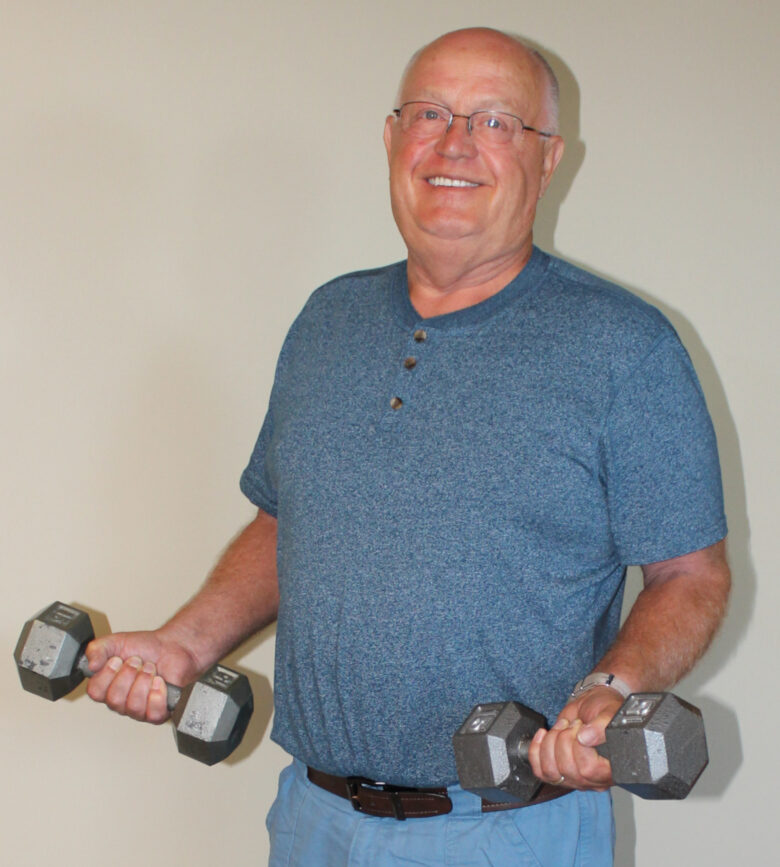 Jim Hansen of Elysian was diagnosed with type 2 diabetes about seven years ago. He balances healthy eating with regular exercise to help manage his diabetes. He admits he's not perfect, but he's on the right track and he's always learning.
"As you're older and you get health issues, you've got to be proactive. I want to be around as long as I can, as healthy as I can," Jim said.
This summer he took the Living Well with Diabetes course offered at VINE Adult Community Center in Mankato. The six-week class meets for about two hours once a week. He learned more about menu planning, reading food labels, exercise and diet with others who have diabetes.
"I always know I need to improve. This gave me a little more insight to better understand what I need to do," Jim said.
He's been watching calories, sugar, good and bad fats. In the class, he learned to read labels more closely and now he's looking at carbohydrates. His classmates talked about rescue food they carry in case their blood sugar drops. He's considering putting rescue food in his car.
"You have to do everything you can to add to the repertoire," Jim said.
A retired agricultural banker, Jim had a sedentary job and knew he needed to exercise more. He was pre-diabetic for several years before he was diagnosed with diabetes by Eric Storvick, MD, Mankato Clinic Internal Medicine.
"Jim has been willing to take advice from his appointments to make powerful lifestyle changes – portion control, better choices for side dishes and regular exercise," Dr. Storvick said. "Jim is doing so well with his blood sugar, blood pressure and cholesterol that we only meet every six months."
Although he doesn't use insulin, he takes medications to help control his blood sugar. The medications are to be used along with diet, exercise and weight management.
Jim has also lost 30 pounds. Weight loss makes a big impact because it allows the body to be more receptive to insulin. He would like to lose 10-15 pounds more, but he wants to lose the weight gradually so he can maintain it.
He enjoys healthier options such as non-fat cottage cheese with fruit. He swapped Thousand Island and French dressings with Balsamic vinegar and oil for less calories and sugar. He's big on grapes and bananas. He orders thin instead of thick crust pizza.
When he was first diagnosed, he saw a dietitian in the Mankato Clinic Diabetes and Nutrition Education Center. He may visit our dietitian again, but this time with his wife Joanne.
"It's a team effort," Jim said.
Jim eats three square meals – morning, noon and 5 p.m. He watches his salt intake, carbohydrates, good fats and bad fats, and sugars. When he snacks in the late afternoon, he eats cashews, dry roasted nuts, hard cheese and whole grain crackers.
"I encourage patients with pre-diabetes and diabetes to reduce portions, especially sugars and liquid calories. As we age we are not burning as many calories. Regular physical exercise is essential. Move more, but start slow and build up as your overall health allows," Dr. Storvick said.
At age 70, Jim walks daily. He currently averages 9,000 steps a day with a goal of 10,000 steps. He uses his smartphone, but he thinks getting a Fitbit to track his activity may help him reach his goal. Besides being active, he walks on the treadmill for one hour, five days a week and lifts light weights three days a week at PMI Total Fitness in Waterville.
An avid golfer, Jim golfs both here and Panama City Beach, Florida, where he and his wife winter. He keeps trail mix in his golf cart and gets extra walking on the course by not driving right up to the golf ball. He also walks the beach in Florida.
In Florida, they socialize and eat out more often. Sometimes the Hansens will split meals at restaurants. When they know they are going out, they will eat lightly at other meals.
Jim's advice to others who are diagnosed with pre-diabetes or diabetes: "Learn as much as you can about it in classes like this. Learn what you need to guide you in the right direction."