Holly's Kitchen: Air Fryer Chicken Tacos
September 26, 2022
As a mom of three, I have learned to appreciate meals that can be ready in under 15 minutes and prepared with just one hand! This taco recipe is versatile, delicious and nutritious. Here's why my family loves it: Chicken. Air fryer chicken thighs are extra juicy, plus I love the ease and promptness of the … Continued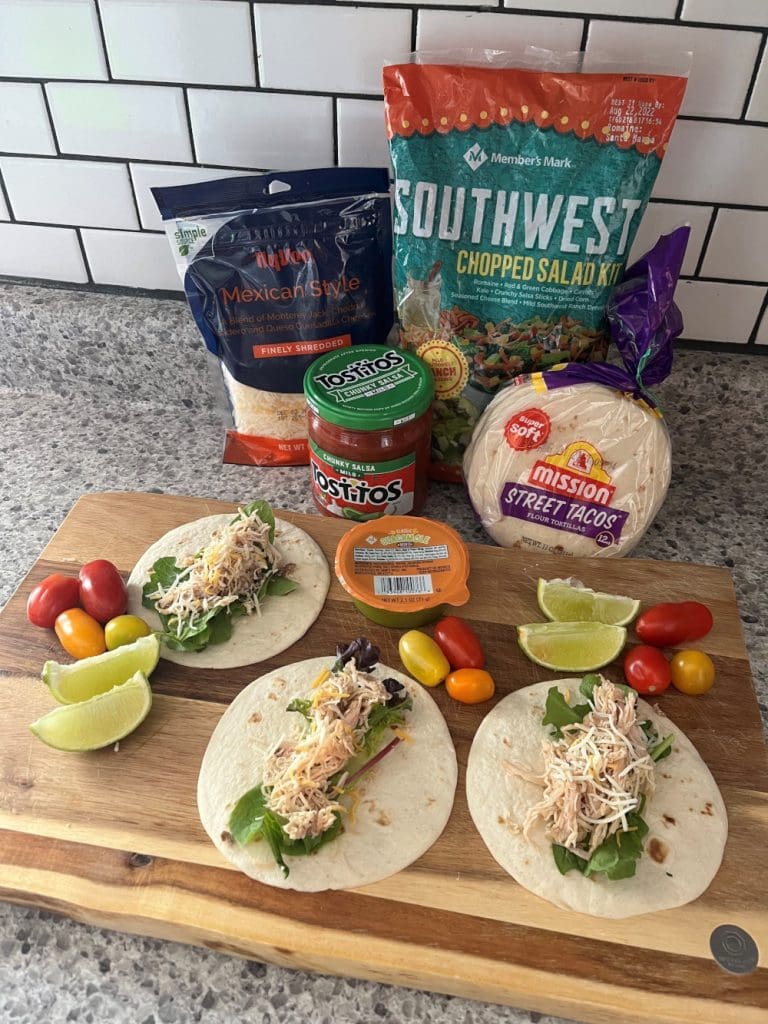 As a mom of three, I have learned to appreciate meals that can be ready in under 15 minutes and prepared with just one hand! This taco recipe is versatile, delicious and nutritious. Here's why my family loves it:
Chicken. Air fryer chicken thighs are extra juicy, plus I love the ease and promptness of the air fryer. I will fully admit to substituting with chicken nuggets, chicken bites, or chicken strips for a super quick fix meal (or when I forget to thaw and marinade the chicken thighs).
Tortillas. My family prefers the soft and small "street taco" flour tortillas (about 4 inches) but any size or type would work.
Spices. For extra flavor, marinate the chicken overnight with orange juice, vinegar and spices for an extra kick. The orange juice and vinegar tenderize the chicken.
Cheese. Cheese is optional but who doesn't love cheese!? In our family, adults prefer Cotija cheese and the kiddos prefer shredded sharp cheddar.
Toppings. Go wild here or follow my lead and keep it quick and simple. We use a bagged salad kit – they're a sensational combination of leafy greens, toppings and dressing and mindless in the very best way! If I have the time or an extra hand, I toss on some additional toppings like cilantro, green onion, avocado, salsa or fresh lime juice. I am also known to "bulk up" the salad kit with more leafy greens. Revol Greens are MN grown year-round and my fave.
All you need:
2 lbs boneless skinless chicken thighs*
1/2 cup orange juice
3 cloves garlic minced
1 T olive oil
1 T white vinegar
1 T chili powder
2 tsp paprika
2 tsp dried oregano
2 tsp ground cumin
1 tsp black pepper
1 tsp salt or to taste
12 (4-inch) tortillas
1 Bagged salad kit (Try Southwest or Asian Mix)
Optional: Cojita cheese, fresh cilantro, green onion, avocados, salsa, limes cut into wedges
All you do:
In an airtight container, or plastic storage bag, whisk together the orange juice, garlic, oil, vinegar and spices. Add chicken thighs and marinate covered in the fridge overnight (or for at least 2 hours).
Remove the chicken from the marinade, lightly brush the air fryer basket with oil, and place the chicken in a single layer in the air fryer basket and cook at 360 degrees for 14 minutes, flipping halfway through.
Meanwhile, in a bowl, mix contents from salad kit.
Remove the chicken thighs from the air fryer and chop or shred.
Prepare tacos by layering shredded chicken, salad and other toppings on tortilla(s)
* To substitute chicken breasts: 12 minutes, flipping halfway through
* To substitute beef: Slice 1 lb steak of choice into strips, air fry for 7-8 minutes at 400 degrees.
* To substitute pork: Slice 1 lb thick cut pork chops into strips, air fry for 10-12 minutes at 375 degrees.
Holly Ellison, RD, LD, works in the Mankato Clinic Diabetes Care Center. She helps people balance tastes and nutrional needs to live fuller, easier and healthier lives.