Erin's Kitchen: Chocolate Overnight Oats
April 10, 2023
One of my go-to meal prep breakfast options is overnight oats. Loaded with protein, fiber, and healthy fats that will keep your energy stable and satisfaction levels high!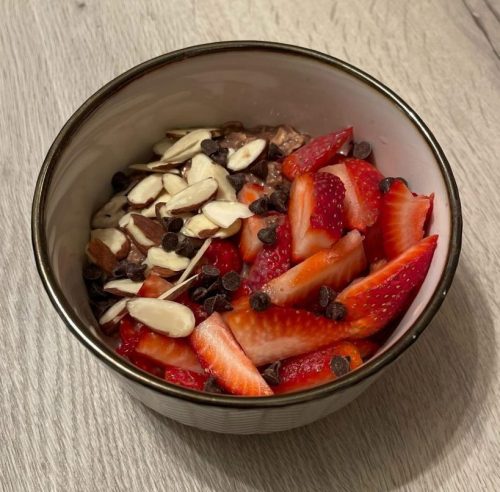 Overnight Oats are so versatile and can be enjoyed in many different flavors and the add-ins are endless! Also makes a great snack option.
The Recipe
Ingredients (1 serving)
½ cup old fashioned rolled oats
¾ cup milk or dairy free milk of choice
1 T pure maple syrup
1 T chia seeds
1 tsp vanilla extract
2 tsp unsweetened cocoa powder
1 T peanut butter or other nut butter
1 scoop vanilla or chocolate protein powder
Directions:
In a small container (large if you are making multiple servings at once), add all ingredients. Stir until everything is well-combined. Refrigerate at least 8 hours.
Optional: Mix in a scoop of protein powder before you refrigerate the oats to make them extra filling and protein-packed!
After at least 8 hours, add your mix-ins of choice (nuts, fresh fruit, chocolate chips, etc.) on top or stir them in when ready to eat. Serve warm or cold!