Don't Sit Down: Our Bodies Are Made to Move
March 25, 2022
January 13, 2020 by Claire Patterson, RN In today's world, we spend hours sitting in our offices, homes and cars. In fact, the average person sits 12 hours a day according to JustStand.org. Evidence shows prolonged sitting raises our risk for type 2 diabetes, obesity and cardiovascular disease. Sitting is hazardous to our health. On the flipside, … Continued
January 13, 2020 by Claire Patterson, RN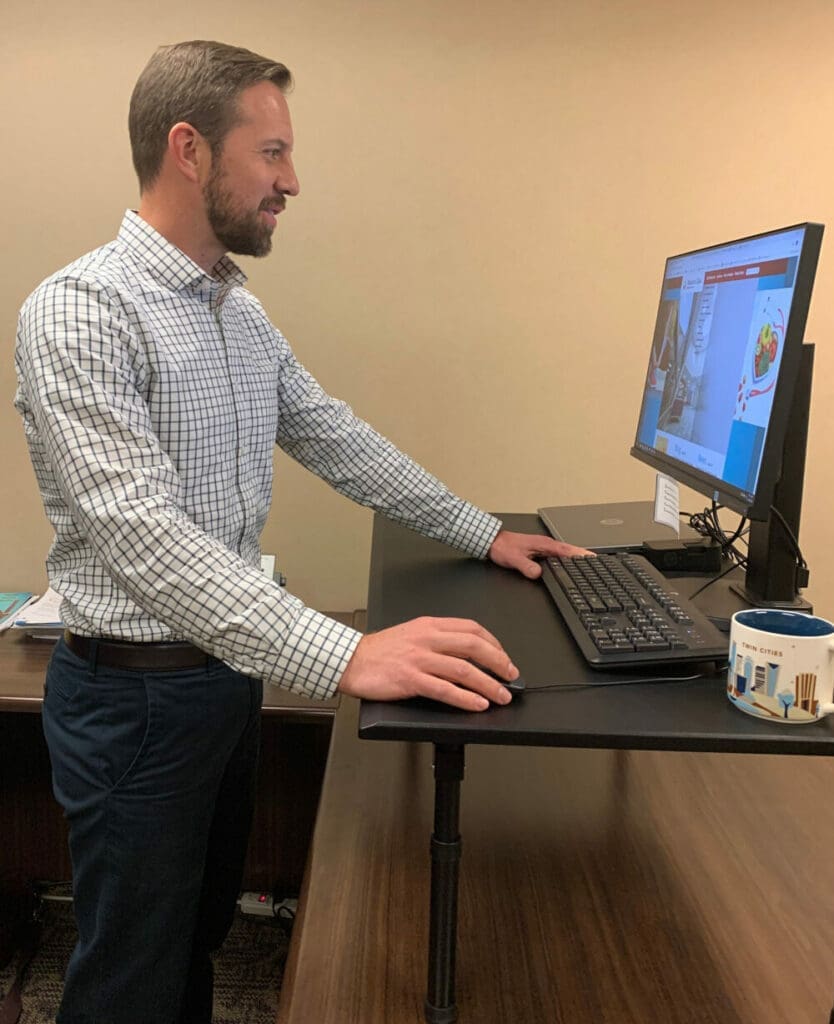 In today's world, we spend hours sitting in our offices, homes and cars. In fact, the average person sits 12 hours a day according to JustStand.org. Evidence shows prolonged sitting raises our risk for type 2 diabetes, obesity and cardiovascular disease. Sitting is hazardous to our health.
On the flipside, research shows we can reap health benefits just by breaking up long periods of sitting. Here are some simple ways to add movement to your workday.
Standing desks
They are great if you use them! If you have a sit-stand station, stand 50 percent of your day. If you work eight hours, four should be standing. Some people sit one hour and then stand one hour. Others stand in the morning and sit in the afternoon. Some tasks are easier to do sitting or standing. Plan your day accordingly and do what works best.
Be sure to have supportive shoes to wear when standing. It's tricky with all the cute boots this season, but keep a pair of tennis shoes at your work station.
Hydrate
Drink lots of water. This way you will naturally have to get up to use the restroom and you will reap the benefits of being well-hydrated. Win-win. Just getting up and getting away from your desk is so helpful.
Walk
If you are allowed a 10 or 15 minute break, get up and take a walk. This also will help you de-stress and boost your energy by changing your body position and walking. You will be more productive once you return to your work. Try taking the stairs instead of the elevator at least one way.
Stand up every hour
Work is busy, but that's no excuse. Moving at work will help you. Get up to use the copy machine, stand up while talking on the phone, go and talk with someone instead of sending an email. These are all small changes that can make a big difference.
Move and stretch
Take a quick stretching break in the morning before your shift starts or every four hours. Try mid-morning and mid-afternoon.
Prolonged sitting causes muscle imbalance. Mankato Clinic physical therapist Jake Nienow explains the trapezius and pectoral muscles get very tight and overused while the deeper muscles in the neck and between the shoulder blades become over-stretched and under-developed. This muscle imbalance can affect how we move and can lead to injury. He advises getting up for five minutes every hour. Stand up, walk around, get some blood flow through the body. Stretch those muscles that get tight from sitting and strengthen the muscles that are underused throughout your day. Take some time out of your day to try to restore a functional balance and retain good movement patterns.
If you feel tight through the neck, shoulders and lower back, consult a physical therapist or health care provider to learn what you can do to get yourself moving optimally.
Mankato Clinic Occupational Medicine helps companies of all sizes manage employee health.