Chicken and Veggie Pad Thai Is a Go-To Meal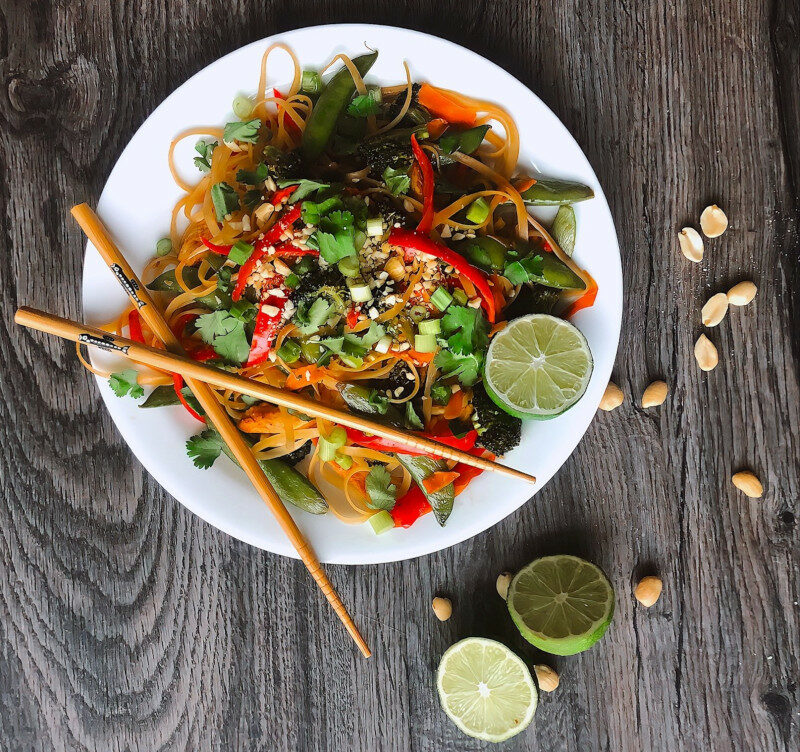 This is one of my favorite weekday go-to meals. This balanced recipe is easy to make, full of flavor and jam-packed with nutrients. It is also great reheated for leftovers. This Chicken and Vegetable Pad Thai is a simple, yet healthier version of a classic take-out favorite. It can also easily be made vegan by substituting the chicken breast for tofu, or any other plant-based proteins.
One serving provides a great source of Vitamin C, Vitamin A, Vitamin B6 and Vitamin K. It also provides about 2.5 servings of vegetables. If you struggle with reaching your daily servings of vegetables, you will love this recipe.
A single serving also provides 2.5 servings of grains. Rice noodles are similar to pasta noodles, yet their texture and nutrient makeup differs greatly. Rice noodles are lower in cholesterol, glycemic index and are usually cheaper. However, pasta noodles are lower in sodium, saturated fat and richer in vitamins and minerals. Both choices are great sources of grains and can be a part of a healthy diet.
A single serving provides 3 servings of protein. Poultry and bean sprouts are great sources of protein. The chicken can be substituted with any other animal or plant-based protein and still taste great. To save time, consider using a stir-fry mix bag of steamer veggies!
Ingredients:
Sauce:
Toppings:
1 boneless, skinless chicken breast
1 bell pepper
2 cups of sugar snap peas
2 cups of bean sprouts
½ cup shaved/grated carrot
2 cups broccoli florets
½ TBS olive oil
½ TBS cumin
½ TBS chili powder
1 TBS garlic powder
1 TBS olive oil
1 tsp sesame oil
1 TBS rice vinegar
1 TBS peanut butter
¼ tsp minced garlic
½ tsp lime juice
½ tsp siracha
¼ cup low sodium soy sauce
1 green onion
¼ cup cilantro
2 TBS cashews
1 jalapeño
1 lime
Yield: 3 servings
Directions:
Cook noodles according to package.
Prepare veggies while noodles are cooking. Slice bell pepper into strips, shave carrot and chop broccoli into florets. Combine prepared vegetables, snap peas, bean sprouts and 1/2 tablespoon of olive oil into a mixing bowl. Transfer veggies to a large skillet over medium heat until thoroughly cooked. Once vegetables are tender and thoroughly cooked, reduce heat to low to keep warm.
Prepare chicken. Slice chicken into strips and blot dry with paper towel. Toss into a medium sized mixing bowl with cumin, chili powder, garlic powder, and 1 TBS olive oil. Cook chicken in a medium sized skillet on medium high heat until thoroughly cooked. Once chicken is cooked through, add chicken to the skillet of vegetables over low heat.
Prepare sauce. Combine sesame oil, rice vinegar, peanut butter, minced garlic, lime juice, siracha, and soy sauce until evenly mixed. Set aside
Prepare toppings. Chop green onion, cashews and jalapeño. Pick cilantro off stem if needed. Set aside.
Combine and plate. Combine drained noodles and sauce to the skillet of vegetables and chicken. Mix until sauce is evenly distributed. Plate pad Thai and top with cilantro, chopped cashews, green onion and jalapeno. Squeeze a wedge of lime over the dish and serve.
Molly Smith, a student in the dietetic program at Minnesota State University, Mankato, contributed this recipe and completed her dietetic internship at the Mankato Clinic.
Recent Blog Posts: