Book Nook: 'Dragons Love Tacos'
May 24, 2022
What happens when you plan a taco party for dragons? Find out when you read "Dragons Love Tacos," written by Adam Rubin and illustrated by Daniel Salmieri. I love reading this book with children. It's a favorite at my house and the clinic. Kids love it because it's silly, fun, and written and illustrated in … Continued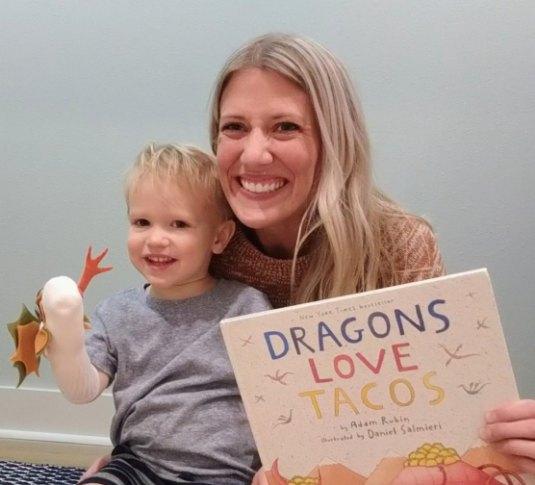 What happens when you plan a taco party for dragons? Find out when you read "Dragons Love Tacos," written by Adam Rubin and illustrated by Daniel Salmieri.
I love reading this book with children. It's a favorite at my house and the clinic. Kids love it because it's silly, fun, and written and illustrated in a way that helps kids relate to the main character.
"Dragons Love Tacos" also teaches kids about cause and effect. Even better, I love the message for young readers. Kids learn that it is possible to keep your cool even when things don't go as you planned. With lots of humor, the book teaches kids not to get discouraged and try to make the best of a situation.
As a pediatric speech therapist, I help children of all ages gain skills in the areas of expressive language, receptive language, speech sound development, literacy, feeding, and more.
Reading books is a great activity to improve language skills! Early and consistent exposure to picture books has proven to help develop expressive and receptive language skills and better academic performance later on. Reading and talking about pictures in books can help improve vocabulary and understanding spoken language. Similarly, books will help a child to learn early literacy skills, such as phonological awareness of learning words and rhyming and phonemic awareness such as sound isolation and blending – all very important skills prior to learning to read.
Sometimes as parents, we rush through reading time. Try to slow down and enjoy the book! Have your child make predictions about what is going to happen in the story. Try to relate the story to their lives. Take time to look at the details in each picture. If it is a book that you have read over and over, try to notice something new on each page. Making up your own story with the pictures is fun, too!
While this book is best for 3-7 year olds, my three kids, age 2, 6 and 8, love it and so do I!
Click here for Stephanie's storytime videos for families. Each video includes an activity to go along with the book. For "Dragons Love Tacos," Stephanis shows families how to make simple sock puppets.
Puppets are so fun and are a great toy to incorporate into play! Using puppets can be a creative and interactive way to help improve language skills and social awareness. Encouraging imaginative play and using fine motor skills are also added benefits of playing with puppets!