Obstetrics and Gynecology: Patients Share Their Stories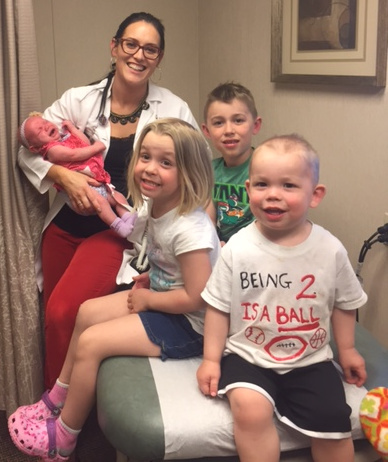 In 2006, Alissa Rothenberger and her husband moved to Saint Peter. She was looking for an OB/GYN when she met Dr. Tara Denke, who had just started her practice at Mankato Clinic.
"We were blessed to have Dr. Denke deliver all four of our children: Brayden in 2011; Zoey in 2014; Evan in 2016; and Natalie in 2018," Alissa said.
Alissa and Dr. Denke instantly clicked as they had common connections and life experiences. They are both from South Dakota!
"Dr. Denke definitely understands the challenges mothers face and transitions they go through. Mine in particular as I balance a career, small business and now a family of four," Alissa said.
---
Lindsey and Andrew Northenscold were trying to have a baby for about a year when Lindsey made an appointment with Fertility Services. Thanks to fertility treatment at Mankato Clinic, they conceived within a few months!
Ashley Dahline, physician assistant, led them through their journey to pregnancy. From the start, Lindsey and Andrew could tell Ashley cared.
"She made me feel really comfortable. I was nervous about going through this process. Ashley was really reassuring. They get to know you versus being just another patient," Lindsey said.
Ashley even called Lindsey when lab tests confirmed Lindsey's pregnancy. Once pregnant, Lindsey returned to the care of Dr. Mark Taylor who delivered their son, Sullivan.
Andrew's advice to other couples facing infertility: "Don't get too down. Try to stay positive."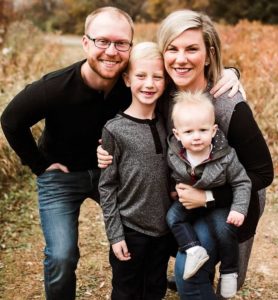 ---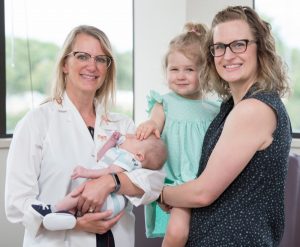 For Cheryl Hagen, delivering her son Charles was a little tricky due to the way the baby was presenting. With a few maneuvers from Dr. Carla Goerish, the delivery was safe and uneventful. Cheryl's husband even cut the cord!
"Dr. Goerish truly is an amazing OB/GYN and she cares for each and every one of her patients as if they were family. She is so reassuring at a time that can feel vulnerable and kind of scary when it comes to the health and safety of your baby," Cheryl said. "I really just love her!"
---
For Kelsey Kober, the drive from New Ulm to Mankato Clinic is worth the prenatal, labor and delivery care she receives from Dr. Scott Barnacle. Dr. Barnacle delivered both her children, Lucia and James. While her pregnancy with Lucia was trouble-free, Dr. Barnacle kept a close eye on Kelsey during her second pregnancy with James due to complications.
"The prenatal care was fantastic. Everybody was so friendly to me. I came to so many appointments, they knew me by my first name. None of them made me feel silly if I had to come in and get James checked out," Kelsey said. "I told Dr. Barnacle he can't retire until we have all our children."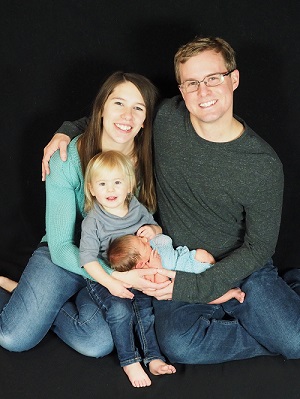 ---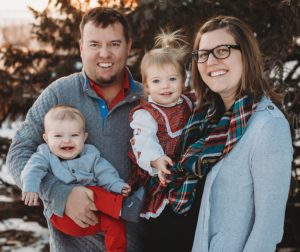 For Miranda and Aaron Bode, Dr. Carla Goerish was a reliable presence in their life for the better part of two years. Dr. Goerish delivered the Bode's children – Harper and Cooper – who were born 13 months apart.
"Dr. Goerish and her nursing staff made us feel very comfortable to ask any questions. We were never made to feel like it was a silly question," Miranda said. "When you get to the OB Department, the people at the desk were always warm and welcoming and kind."
During Miranda's long labors which included minor complications, Dr. Goerish remained calm and cool. Miranda and Aaron felt very comfortable under the care of Dr. Goerish and the professional hospital staff.
"I don't think I could say enough nice things about Dr. Goerish," Miranda said.
---