Mankato Respiratory Clinic FAQ's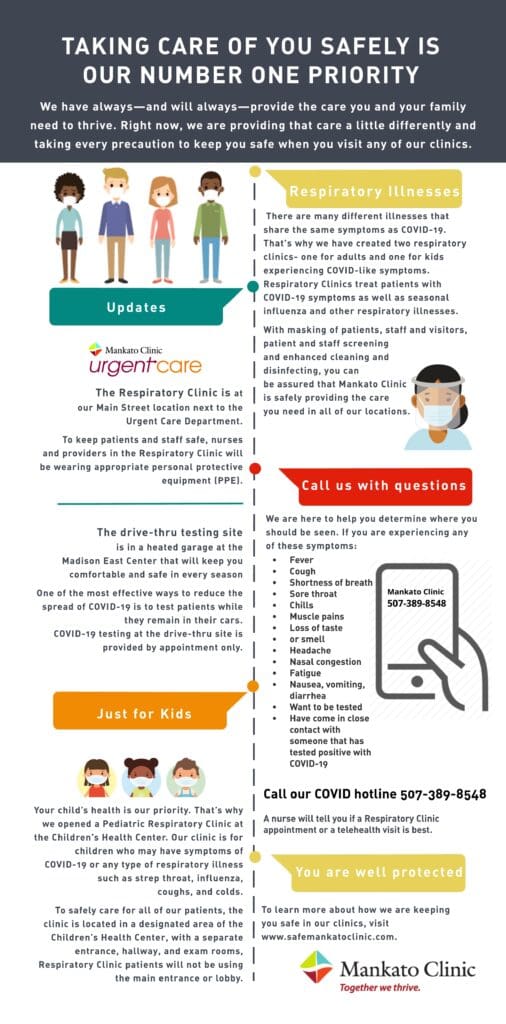 We hope this FAQ helps to answer your questions:
A:Yes. The Respiratory Clinic will be located alongside, yet separate, from our Urgent Care Department at Main Street. A remodeling project included adding a new external entrance, dividing walls, and separate exam rooms and hallways. To keep patients and staff safe, nurses and providers in the Respiratory Clinic will be wearing appropriate personal protective equipment (PPE). Our Respiratory Clinic patients will wait in their car until they are called in for care. Then our nurses will escort respiratory patients directly to a Respiratory Clinic exam room. With masking of patients, staff and visitors, patient and staff screening and enhanced cleaning and disinfecting, you can be assured that Mankato Clinic is safely providing the care you need in all of our locations.
A: One of the most effective and efficient ways to lower the risk of spreading COVID-19 is to collect testing samples from patients while they remain in their cars. We expect to use this approach to COVID-19 testing into the fall and winter by appointment only. A tent is less than ideal for inclement or cold weather so a more permanent structure is needed. That's why we converted a heated garage into a drive-thru testing site at the Madison East Center. The new testing facility will keep our patients comfortable and safe in every season.
Pediatric Respiratory Clinic
Your child's health is our priority. That's why, in September, we will open a Pediatric Respiratory Clinic at the Children's Health Center. Our clinic is for children who may have symptoms of COVID-19 or any type of respiratory illness such as strep throat, influenza, coughs and colds. To safely care for all of our patients, the clinic will be located in a designated area of the Children's Health Center. With a separate entrance, hallway and exam rooms, Respiratory Clinic patients will not be using the main entrance or lobby. Exam rooms will be cleaned rigorously between patients. Watch for updates on the opening of the Pediatric Respiratory Clinic where the safety of our patients will be our number one concern.
Patient Safety
To learn more about how we are keeping you safe in our clinics, visit www.safemankatoclinic.com. If you are experiencing COVID-19 symptoms, please call our COVID-19 Hotline at 507-389-8548.