Healthy Recipe: Vegetable Pasta with Crispy Goat Cheese Medallions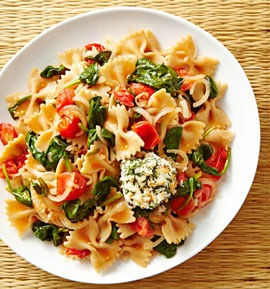 March 7, 2016
by Mankato Clinic
If you find yourself rotating between the same six or seven healthy dishes, you're not alone. It can seem daunting to try and find a new recipe that is both tasty, yet healthy for you. With spring just around the corner, try this vegetable pasta, loaded with fresh veggies sure to get you in the mood for the nicer weather ahead!
Ingredients:
8 ounces whole-wheat bow-tie pasta
1 1/2 tablespoons chopped fresh dill
1 1/2 tablespoons panko-style breadcrumbs
4 ounces goat cheese
2 tablespoons extra-virgin olive oil
2 cups thinly sliced small onions
1 1/2 pints cherry tomatoes, halved
2 cloves garlic, sliced
1/2 teaspoon salt
1/4 teaspoon freshly ground pepper
6 cups baby spinach
Steps:
1: Position rack in upper third of oven, preheat broiler. Line a small baking sheet with foil.
2: Cook pasta according to package directions. Drain, reserving 1/2 cup of the cooking water.
3: Meanwhile, combine dill and panko in a small bowl. Divide goat cheese into 4 portions; shape each into a 1-inch small disk. Coat the disks in the panko, lightly patting the mixture onto the cheese to help it stick. Place on the prepared baking sheet and lightly coat the tops with cooking spray. Set aside.
4: Heat oil in a large skillet over medium heat. Add onions and cook, stirring, until lightly browned, 5-6 minutes. Add tomatoes, garlic, salt and pepper; cook until the tomatoes release their juice, 1-2 minutes. Stir the reserved 1/2 cup water, scraping up any browned bits. Stir in spinach and the pasta, remove from heat.
5: Broil the goat cheese rounds, watching closely, until light brown and crispy on top, 1-2 minutes. Serve each portion of pasta topped with a goat cheese medallion.
Nutritional information:
Serves 4: 1 3/4 cups each
Calories 387, Fat 15g (sat 5g), Cholesterol 13mg, Carbs 53g, Total sugars 6 g (added 0g), Protein 17g, Fiber 8g, Sodium 452 mg, Potassium 739mg